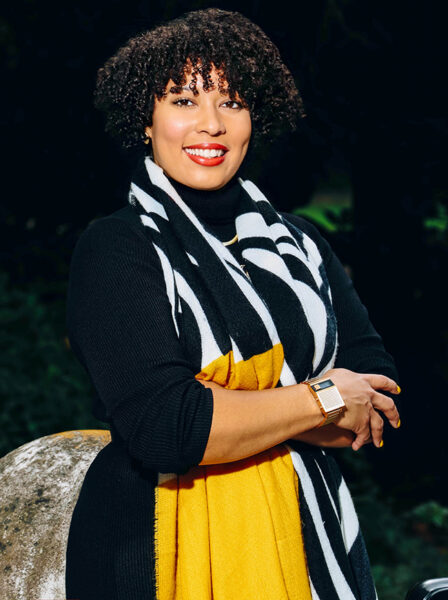 As a Vanderbilt undergraduate, Dr. Erika Dillard scrapped her initial plans to major in engineering and instead crafted an interdisciplinary major in neurobiology and neuroscience. She credits Jon Kaas, Gertrude Conaway Vanderbilt Professor of Psychology, for encouraging her scientific curiosity. "He took me under his wing," she says, "and allowed me to work on any projects I wanted to" in his Wilson Hall lab.   
Scientific curiosity has been a hallmark of Dillard's professional career. After receiving her M.D./Ph.D. from the University of Tennessee Health Science Center, she founded Memphis-based PopCheck Technologies Inc., which uses artificial intelligence-driven monitoring technology to help prevent clots in surgical patients recovering at home. The idea for PopCheck was sparked during her neurosurgery residency at Thomas Jefferson University Hospitals in Philadelphia. Dillard recognized the need for an at-home device to monitor post-surgical patients for clots, potentially reducing rehospitalizations and saving lives.  
"It's a huge unmet need because venous clots are one of the leading causes of preventable death in post-operative patients," Dillard says.   
PopCheck is developing single-use remote monitoring technology designed as "both a device and a platform," Dillard explains. Strapped to a patient's leg, the device sends electrical muscular stimulation to move blood toward the heart while simultaneously monitoring vitals. If the biofeedback falls outside an AI-based predictive model, "the device can send an alert through a remote platform to a health care provider to make an earlier, more informed decision on patient care," she says.  
For now, Dillard is shifting her focus away from the lab and operating room in hopes that her entrepreneurial efforts will enable her to help more patients. She is focusing on the device prototype full time with plans to raise additional capital, and she has assembled an advisory board representing experts in vascular medicine and medical device commercialization. Next steps include seeking full FDA approval, identifying avenues for reimbursement and hiring a full-time technology officer.  
"I've been pushing myself to get outside my usual medical perspective, to show what PopCheck is about outside my normal peer group in medicine," Dillard says. "It's really important for me as a founder and CEO of a company to be able to communicate what we are doing, why and how. But what's awesome is that there's no other way I could help so many people."  
—Jennifer Plant Johnston