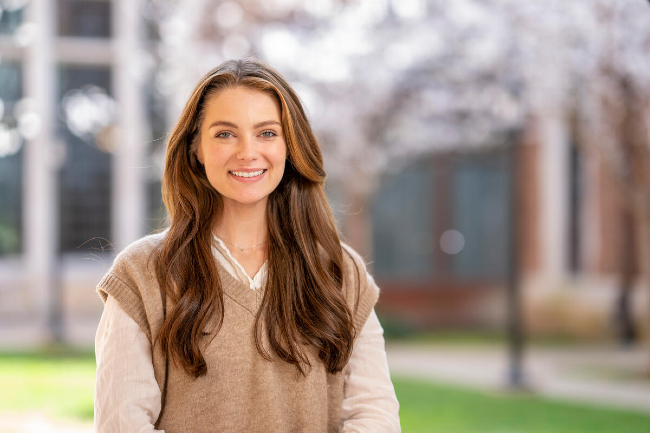 I Am Vanderbilt celebrates the people of Vanderbilt and the unique talents and contributions they bring to their work at the university each day.
As much as any component of overall wellness—including sleep, exercise and mental health—nutrition plays a vital role in students' success at Vanderbilt. No one understands this better than Emily Suttle, RD, LDN, Campus Dining's registered dietitian.
Students regularly meet with Suttle to discuss their nutrition goals. "My work with students ranges from those just wanting some general tips on how to eat healthier on campus to students needing assistance navigating Campus Dining with a severe food allergy," she said. "I work with our executive chef to ensure there is a variety of offerings for any type of diet or preference. I offer training to our staff about food allergies and special diets. And I work with our marketing team on nutrition events and health promotion through social media."
Suttle's goal is to make every student feel they can dine safely and confidently on campus.
"Food provides physical and mental nourishment. It is a cultural experience and a social experience," said Suttle, who joined the university in 2019. "I am a resource to these students to make food and dining a stress-free experience on campus so they can focus on their studies and future careers. Working directly with students and seeing the impact I can have on someone's life and attitude toward food is definitely one of my favorite parts of the job."
For her own wellness, Suttle says maintaining a work-life balance is essential. "I set boundaries on answering emails outside of office hours unless it is absolutely necessary, and I make it a priority to partake in some form of movement every day, whether that's going for a walk around my neighborhood or participating in my favorite workout class," she said. "Cooking is also very therapeutic for me, so I like to experiment with new recipes throughout the week. It's a great, mindless activity that helps me unwind."
–Kara Furlong