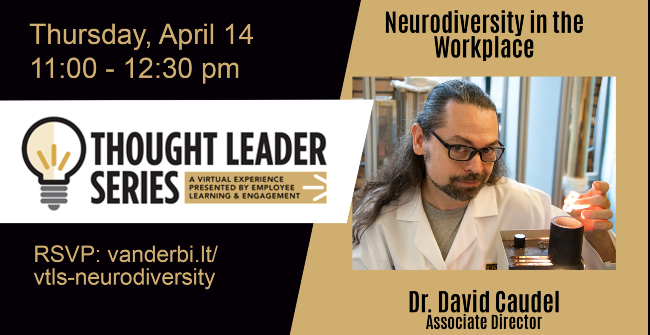 Join HR Employee Learning and Engagement for the next installment in its Thought Leader Series. "Neurodiversity in the Workplace" with David Caudel, associate director of the Frist Center for Autism and Innovation, will be on Thursday, April 14, from 11 a.m. to 12:30 p.m. via Zoom.
Autism is sometimes referred to as an "invisible disability" because many do not recognize that the person they're speaking with may be different or have a disability. This is why more than 80 percent of autistic adults, including those with bachelor's or graduate degrees, are unemployed or underemployed. Roughly one-third of the U.S. population is neurodivergent and faces similar struggles. This talk will focus on neurodiversity and neurodivergence, challenges in the workplace, and how to help create a more inclusive work environment.
The session will feature a 30-minute talk, followed by an opportunity for participants to ask questions.
To RSVP, please visit: http://vanderbi.lt/vtls-neurodiversity.
This learning experience is Level 1: Consume and Consider, with an additional opportunity to participate in a question-and-answer session following the talk.
The Virtual Thought Leader Series allows distinguished leaders and experts to share their expertise with the VU community, providing employees the opportunity to hear and learn from the best and brightest minds on a variety of topics. Presented as an engaging experience using a virtual platform, attendees are invited to interact with expert speakers via question-and-answer sessions.
For questions or more information, please email the ELE team at ele@vanderbilt.edu.
About the speaker
Dr. David Caudel is associate director of the Frist Center for Autism and Innovation at Vanderbilt University. Diagnosed with Asperger's syndrome in 2009, Caudel is an autism self-advocate, speaking to a variety of organizations including the United Nations and at autism conferences internationally. For much of his life, Caudel struggled to find his place in the world and had a number of careers, including videographer, soldier in the U.S. Army, journalist, photojournalist, magazine editor, public affairs specialist, truck salesman and corporate stints from customer service to loss prevention before deciding to give "this college thing a try." He received his Ph.D. in physics at Vanderbilt in 2017. He serves on the advisory committee for the Center for Discovery, Innovation and Development at Children's Specialized Hospital in New Jersey, the Vanderbilt University Diversity Council and the All Access Inclusion Network, and is a founding member of the Vanderbilt Autism and Neurodiversity Alliance. His research interests include gamma spectrometers for astrophysics applications and meaningful employment for adults on the spectrum by finding novel, innovative ways to measure their strengths, talents and passions, then match those to specialized business needs, as well as determining the programs and training needed to maximize their success in the workplace.