The Vanderbilt Project on Unity and American Democracy has announced the formation of a 26-member advisory board spanning multiple backgrounds and fields—from former Florida Gov. Jeb Bush and biographer Walter Isaacson to Grammy-winning artists Faith Hill and Tim McGraw—that is committed to the project's mission to elevate facts and evidence-based reasoning in American political discourse.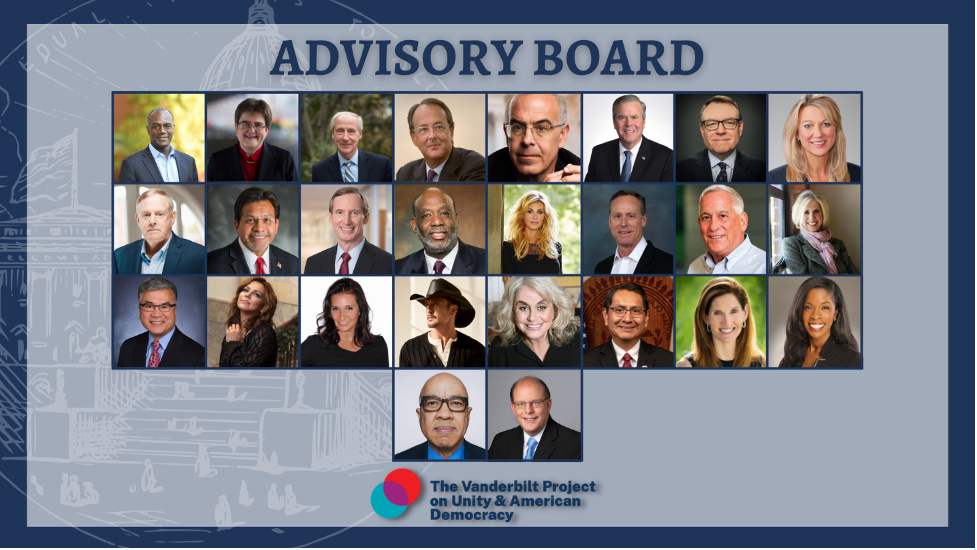 "American democracy rests on the foundational idea that people come together from all walks of life and diverse perspectives to work for the common good of our country," Vanderbilt University Chancellor Daniel Diermeier said. "The advisory board being announced today embodies this ideal and will be instrumental in helping the Vanderbilt Project on Unity and American Democracy achieve its goal of fostering a shared understanding and productive dialogue to help our nation heal its frayed bonds."
Today's American democracy is struggling amid the nation's deep polarization and eroding trust in foundational institutions. The Vanderbilt Project on Unity and American Democracy was founded just over one year ago in direct response to that dynamic, with the goals of exploring how higher education and other leading institutions can play a productive, active and meaningful role in healing our deepest divides and bridging our widest differences.
"The country remains at an inflection point, with many questioning the continued durability of the American experiment," said Jon Meacham, one of the project's three co-chairs and the Carolyn T. and Robert M. Rogers Chair in American Presidency at Vanderbilt. "This exceptional group will help the project push back against the falsehoods and conspiracy theories passing for political rhetoric and reintroduce facts and evidence in the national debate."
Members of the advisory board join the project from across the political spectrum, diverse backgrounds and a wide range of expertise. From politics and law, to journalism, higher education, religion and music, each member of the advisory board brings unique perspective and valuable insight into solving the country's most pressing challenges. Music and film also hold a special power to unite people from all different political stripes and geographies, especially in our current fragile moment as a nation. The advisory board will help the project reach audiences far and wide with its core message—that fact and evidence must serve as the basis for our national dialogue, and we must commit to a shared future as country.
"We have a trust gap in this country," said Samar Ali, Vanderbilt research professor and project co-chair. "By lending their voice to the project, this group can help restore trust in the democratic system by talking with, rather than simply talking to, Americans of all backgrounds."
As the project continues to develop original research, programming and content throughout the coming year, the advisory board will amplify key findings and raise important topics of discussion at home and abroad. By lowering the temperature and drawing on a broad selection of experiences, advisory board members will speak from positions of authority and trust, helping the project reach new audiences and develop deeper understanding for a more peaceful and united nation.
"Divisiveness and rancor never built a bridge or educated a child," said Bill Haslam, former two-term governor of Tennessee and project co-chair. "This impressive collection of national leaders understands the importance of approaching the difficult challenges facing our country with humility and civility."
The advisory board comprises the following members:
Kofi Appenteng, president and CEO of the Africa-America Institute (AAI)
Allida Black, distinguished visiting scholar at the Miller Center for Public Affairs at the University of Virginia, adviser to Hillary Clinton, human rights activist
Bob Boisture, president and CEO of the Fetzer Institute
Erskine Bowles, trustee of the Center for Strategic and International Studies, co-chair of the National Commission on Fiscal Responsibility and Reform, former White House chief of staff, president emeritus of the University of North Carolina
David Brooks, op-ed columnist for The New York Times, frequent media contributor
Jeb Bush, founder and chair of ExcelinEd, former governor of Florida
Rodney Ferguson, president and CEO of Winrock International
Alice Fisher, partner, Latham & Watkins LLP, former assistant attorney general in the U.S. Department of Justice Criminal Division
Gen. Jack Gardner, U.S. Army (Retired)
Alberto Gonzales, U.S. attorney general under President George W. Bush, dean of Belmont College of Law
Warren Gorrell, senior counsel and former CEO of Hogan Lovells
Forrest Harris, president of American Baptist College, professor of the practice of ministry, director of the Kelly Miller Smith Institute on Black Church Studies at Vanderbilt Divinity School
Faith Hill, Grammy Award–winning music artist, actor and TV producer
Gen. Scott Howell, U.S. Air Force (Retired), former commander of the Joint Special Operations Command
Walter Isaacson, biographer, former editor of Time, former president of the Aspen Institute, professor of history at Tulane University
Callie Khouri, Academy Award–winning film and television writer, director, producer
Gary Locke, former U.S. ambassador to China, former secretary of commerce, former governor of Washington, interim president of Bellevue College
Martina McBride, Grammy-nominated and CMA Award–winning country music artist
Ebie McFarland, owner and founder of Essential Broadcast Media
Tim McGraw, recording artist, actor
Susan Nadler, former music industry executive, award-winning creator and author
Jonathan Nez, president of the Navajo Nation
Valerie Rockefeller, chair of the Rockefeller Brothers Fund and Rockefeller Philanthropy Advisors
Deondra Rose, associate professor of public policy, political science and history; director of Polis: Center for Politics at Duke University's Sanford School of Public Policy
Darren Walker, president of the Ford Foundation
Peter Wehner, contributing opinion writer for The New York Times and The Atlantic, former White House speechwriter for President George W. Bush, senior fellow of the Ethics and Public Policy Center
The Vanderbilt Project on Unity and American Democracy aims to elevate facts, research and historical evidence to reinvigorate our national discourse, the public and our leaders in the possibilities and promises of democracy. Through this crucial work, the project shines a light on what binds Americans together, allowing it to illuminate the path toward that more perfect union. Visit vu.edu/unity to stay informed on news, events and research from the Vanderbilt Project on Unity and American Democracy.