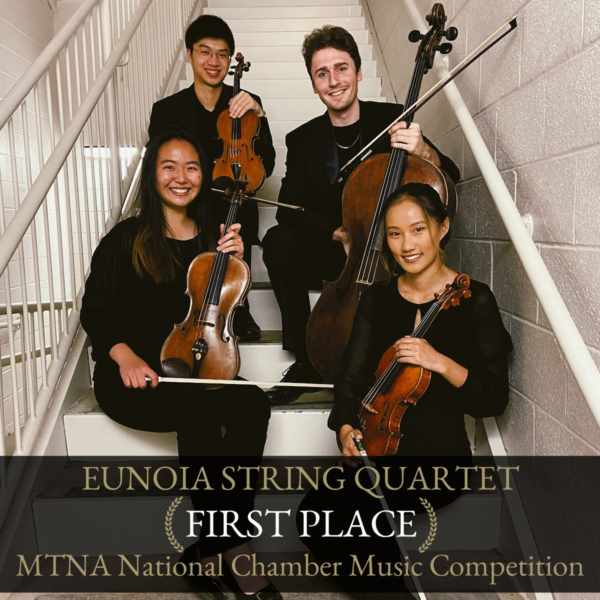 Two student chamber music ensembles from Vanderbilt University Blair School of Music—the Eunoia String Quartet and the Arsevi Trio—competed as two of only seven national finalists at the Music Teachers National Association Chamber Music String competition. The contest took place before the MTNA 2022 Virtual Conference, March 26–30.
The Eunoia String Quartet, coached by Carolyn Huebl, professor of violin, won the competition. Ensemble members, all from the Class of 2023, are Kingston Ho, violin, Sarah McGuire, violin, Shinwho Kwun, viola, and Alexander Smith, cello. The quartet, which has been together for three years, performed String Quartet in C Major, Op. 20, No. 2 by Joseph Haydn, Strum by Jessie Montgomery, currently artist in residence at Blair, and String Quartet No. 2 in F by Sergei Prokofiev.
Originally planned for Minneapolis, Minnesota, the conference and competition were converted to virtual events because of local COVID-19 case counts. As a result, the finalists submitted videos for the initial rounds, then re-recorded their performances for the final round.
"It was a long road to the finals of MTNA," Huebl said. "Because of COVID-19 everything had to be on video, which in some ways is even more difficult than live performance. I was thrilled when it was announced that the Eunoia String Quartet was chosen first place in such a prestigious competition."
The Arsevi Trio is coached by Huebl, Cornelia Heard, holder of the Valere Blair Potter Chair and professor of violin, and Susan Yang, assistant professor of the practice of piano. The trio members are first-year student Vivian Kung, violin, sophomore Aaron Chen, cello, and junior Sean Yang, piano.
"The entire string department is so incredibly proud of the Eunoia String Quartet and the Arsevi Trio," Huebl said. "I love teaching at Blair because of how well the faculty work together to support these students. It all pays off in creating musicians who are recognized on a national level and go on to enjoy exciting musical careers after leaving Vanderbilt."
Vanderbilt Blair student musicians have won at MTNA national competitions five times in the past five years. Previous winners include:
Eliza Wong, violin, Class of 2019. First place, String, 2019 Young Artist Performance (Carolyn Huebl, teacher)
Lauren Urquhart, soprano, Class of 2018. First place, Voice, 2018 Young Artist Performance (Amy Jarman, principal senior lecturer of voice, teacher)
Music City Quintet (Miranda Shum, piano, Hesoo Cha, violin, Emily Monroe, violin, Rachel Haber, viola, and Eric Cho, viola, all Class of 2020). First place, 2018 Chamber Music String (Cornelia Heard, coach)
Mary Grace Johnson, violin, Class of 2017. First place, String, 2017 Young Artist Performance (Cornelia Heard, teacher)
Claudius Quartet (Eliza Wong, violin; Hesoo Cha, violin; Rachel Haber, viola; and Meghan Leong, cello, Class of 2020). Third place, 2017 Chamber Music String (Cornelia Heard, coach)
The MTNA national competition recognizes exceptionally talented young artists and their teachers in their pursuit of musical excellence. The association has approximately 22,000 members in 50 states and more than 500 local chapters.
"The level of competition for this kind of national recognition is incredibly high and very intense," said Lorenzo F. Candelaria, dean of the Blair School of Music and holder of the Mark Wait Dean's Chair. "The top awards consistently earned by Blair students over the past five years—in areas ranging from classical strings to big band jazz—reflect a stunning ascendancy unlike any I have seen among leading music schools in the country."