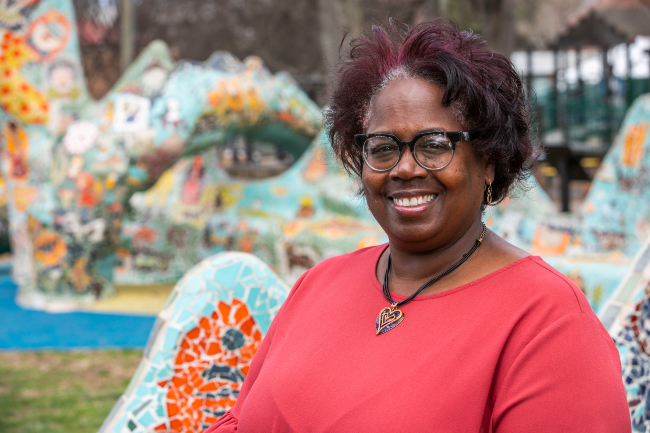 I Am Vanderbilt celebrates the people of Vanderbilt and the unique talents and contributions they bring to their work at the university each day.
Midori Lockett has been involved in community service and outreach since she was a teenager. That's one reason she finds her current role as chief community impact officer in Vanderbilt's Division of Government and Community Relations especially meaningful.
Lockett directs Vanderbilt's Community Impact Fund, the university's community investment program. "My role is outward-facing, results-oriented and collaborative," she said. "I facilitate Vanderbilt's community engagement goals through relationship building. Overall, my job is to make meaningful connections on behalf of Vanderbilt and to effect positive change in our local community."
A Vanderbilt staff member for more than two decades, Lockett has previously held positions in the Office of the Chancellor, Commencement and Human Resources. She said dedication to the university's mission and higher education in general and commitment to doing good work are among the qualities she appreciates most in her Vanderbilt colleagues.
"I take pride in making connections between community partners and campus ones and seeing those relationships evolve and grow," she said. "It is also rewarding to provide resources to organizations that are doing impactful work, especially in marginalized communities that have historically been under-resourced.
"Seeing that real change can be achieved is important to me," she said. "With intentionality, collaboration and commitment of resources, you can facilitate impact."
The mother of twins who are recent college graduates, Lockett is a self-described introvert and maintains her wellness by taking walks in her neighborhood, doing deep-breathing exercises and practicing mindfulness. "I value quiet time and introspection," she said. "We are inundated with information, and sometimes you must tune out and enjoy the still and quiet."
–Kara Furlong