As the early days of the COVID-19 pandemic in 2020 began to stretch into a much longer disruption, Nashville artist Joon Powell coped by doing what she knows best: She picked up a camera and captured life around her through its lens. 
While the world shut down, Powell, a photojournalist, librarian and archivist, found beauty in the simple moments of a time marked by so much uncertainty. One photo shows the cramped chaos of a living room shared by parents and their young children as they work and learn remotely from home. Another shows a child's surgical mask turned into a cat face with a few strokes of a marker and a nearby drawing of a coronavirus molecule—an image surely not in the repertoire of most preschoolers a few years ago. 
This month, Powell will display her work with fellow artists Bill Steber, Dawn Majors and John Partipilo at a new exhibit at Vanderbilt Divinity School titled "Nashville: A Pandemic Observed."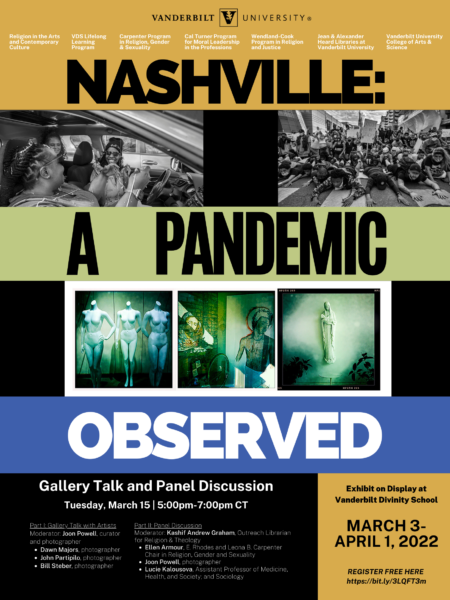 The exhibit allows for a chance to pause as the world marks the somber milestone this month of an estimated 6 million deaths worldwide due to COVID-19. As grieving continues, the exhibit is a chance to reflect on the difficult years spent trying to navigate a global pandemic and the abrupt changes it brought to everyday life.
"No one will forget those first harrowing weeks of scanning the news and seeing rates of infection dot maps and then entire continents turn red. Since the spring of 2020, COVID-19 has taken hundreds of thousands of American lives and altered countless more forever," Powell said. "Our families navigated the crisis by going into isolation. Our homes became our workplaces, schools, playgrounds and refuges as we tried to mark the seemingly endless time by celebrating birthdays, caring for animals, and exploring within all those parameters we deemed safe. 
"I have always photographed my family," she added, "but these photographs serve as a record of our pandemic experience documenting how we have devoted our time and attention. As I observed this strange season of my children's lives, I came to understand their resilience, as they see the world in all its beauty and its brokenness. My children strove for connection like wildflowers lean toward the sunlight. May we all do the same." 
The Divinity School sought to host the exhibit as an opportunity to explore the relationship between photography and spiritual practices. Vanderbilt is unique in is offering of a Religion in the Arts and Contemporary Culture Program, where students learn how to connect the arts to theological reflection and contemporary worship, said Stephanie Budwey, the program's director and Luce Dean's Faculty Fellow Assistant Professor of the History and Practice of Christian Worship. 
As part of the exhibit, students and community members will have the opportunity to attend a panel on March 15, from 5 to 7 p.m., for a gallery talk featuring the artists and Vanderbilt scholars. The event is free and open to the public. 
The first hour of the panel will include a discussion with the artists about their inspiration, and the second hour will feature a panel moderated by Kashif Andrew Graham, outreach librarian for religion and theology at the Divinity School. Graham's panel will explore the relationship between photography and spiritual practices, using photographic justice to understand health disparities, and the visual as a political form.  
Panelist Ellen Armour, E. Rhodes and Leona B. Carpenter Professor of Religion, Gender and Sexuality, associate dean for academic affairs, and associate professor of feminist theology, and Lucie Kalousová, assistant professor of medicine, health and society and of sociology, will join Graham and Powell for the conversation. 
The collaboration with community artists serves as an opportunity to create a space for conversations about the way the pandemic has changed lives, said Celia Walker, associate university librarian, who brought the idea of hosting the exhibit to the Divinity School.  
"After our initial meeting, I immediately knew the Divinity School would be an exceptional partner. They are deeply committed to bringing community together around conversations of spirituality and the arts. This exhibit is a natural extension of those commitments, and the libraries are so pleased to be a conduit for those efforts," Walker said. 
"The library is a center, not only for information, but also for conversation. We are elated to be partnering with the Divinity School in this exhibit and panel sessions that will use photography as a launching-off point for discussions on health disparities and spirituality, particularly in the pandemic," Graham added. 
Each artist offers a unique perspective on the pandemic, giving visitors a diverse palette to explore. Majors, who has worked for the St. Louis Post-Dispatch and The Tennessean, created images from a cellphone and presented them in triptychs with visual poetry, offering observations and juxtapositions about experiences. Partipilo, also a veteran of The Tennessean, shares documentary images that include photos from church and family, health care workers, the unrest of social justice protests, and the vaccine rollout. Steber, also with The Tennessean, made portraits of his family and community using 19th century photographic processes, showing the time in isolation and lockdown. 
Find directions to the exhibit on campus.