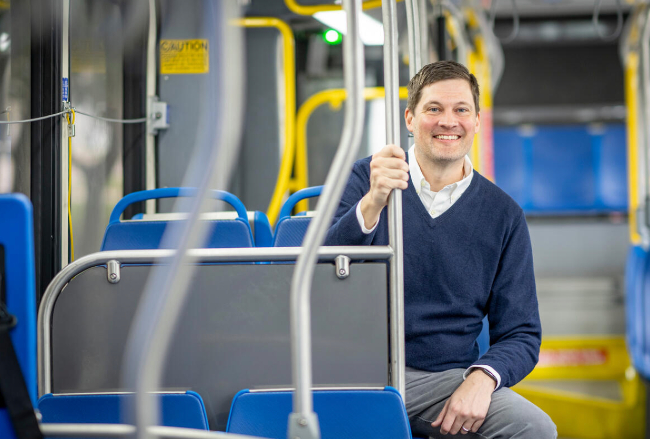 I Am Vanderbilt celebrates the people of Vanderbilt and the unique talents and contributions they bring to their work at the university each day.
Michael Briggs likes talking to people about their commutes. More than making idle chit-chat, Briggs' job entails helping faculty and staff understand how they can save money, reduce stress and help the environment while traveling to and from work at Vanderbilt.
As the university's interim director of mobility, Briggs works with others on campus to improve the Vanderbilt community's transportation options.
"We often hop in our cars each day without giving much thought to the costs involved, like a car payment, maintenance, insurance and parking," said Briggs, who worked for nearly a decade at the Metro Nashville Planning Department. "If we take the bus, it might take longer—but you have the flexibility to work while riding, no costs because Vanderbilt pays for your ride, the opportunity to meet other people, and reduced stress from not driving. If we carpool, we split the cost of our commute in half and develop relationships with our colleagues.
"You can do these things one or two days per week or month, and it will make you think differently about how small steps can improve the environment, your health and your bank account," he said.
Briggs acknowledges that these conversations often can be "touchy" because employees feel a strong sense of ownership regarding how they get to work and where they park. However, they're important conversations to have at a major teaching and research institution like Vanderbilt.
"So much of our campus is devoted to parking cars on very valuable land," he said. "If we rethink how people get to campus and how parking functions, we can have tremendous impact on the Vanderbilt mission."
–Kara Furlong