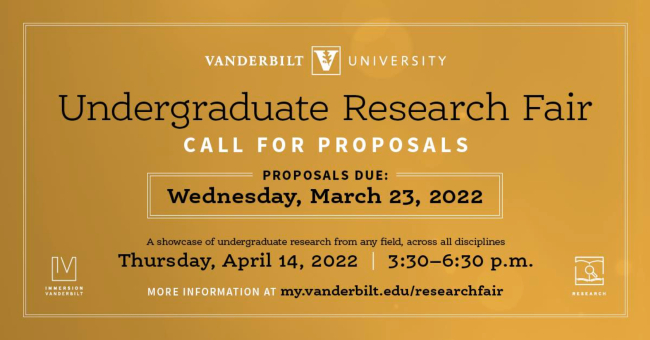 The second annual spring Vanderbilt Undergraduate Research Fair is scheduled for Thursday, April 14. A virtual fair will be held from 3:30 to 4:15 p.m. on Zoom, followed by an in-person event in the Student Life Center Commodore Ballroom from 4:30 to 6:30 p.m.
Students who have completed research while undergraduates at Vanderbilt are encouraged to apply. Research from all disciplines will be showcased at the event. Students can present a physical poster or a presentation on a personal device. Space for virtual presentations is limited.
To register to present, complete the registration form on the Vanderbilt Undergraduate Research Fair webpage. Student proposals will be accepted until March 23 at 11:59 p.m. CT.
More information about attending the virtual and in-person events will be announced in April.
The Undergraduate Research Fair is sponsored by the Vanderbilt Undergraduate Summer Research Program, the Littlejohn Family, the Office of the Provost, the Office of Immersion Resources and the School of Engineering.
Questions about the Vanderbilt Undergraduate Research Fair can be directed to the Office of Immersion Resources at immersion@vanderbilt.edu.