Media Inquiries
Latest Stories
Kimberly Welch, associate professor of history and assistant professor of law at Vanderbilt University, has been awarded a 2022 Dan David Prize. The internationally renowned annual award, headquartered at Tel Aviv University, gives prizes of $300,000 each to nine early- to mid-career history scholars whose outstanding contributions expand knowledge of the past, enrich society in the present and promise to improve the future of the world.  
"We live in a world in which the humanities, and particularly history, are devalued and attract less investment, even as it remains clear that only by deepening our knowledge of the past we can gain a better understanding of the present," said Ariel David, board member of the Dan David Prize and son of the founder. "For this reason we have chosen to focus exclusively on the historical disciplines and support emerging scholars and practitioners, within and beyond the academy, at a stage in their career when the prize can make a bigger impact." 
Welch is a socio-legal historian who scours endangered legal archives in the United States in an effort to reframe perspectives on African American agency in the antebellum period.
Welch's scholarship has revealed new dimensions of slavery, race and the law in the American South during the 19th century. Her methodology approaches the law and slavery from the bottom up: Rather than focusing on statutes and appellate court decisions as conclusive expressions of law, she examines trial court records, church disciplinary hearings and other local legal records in order to uncover the role ordinary people played in shaping legal processes. 
Welch's work has advanced the understanding of what law is and who it is for. The antebellum U.S. South offers fertile ground for critically examining who defines law and rights, and to what end, Welch said. Scholars often think about rights as something given or provided through nature or statute, but Welch has demonstrated that rights are more properly imagined as capacities claimed through rhetoric—including the rhetoric of those without formal power.  
Welch said she's thrilled to receive a Dan David Prize and is strategizing how the prize will be incorporated into her future  research. 
"The prize is a game changer for me. It will allow me to embark on an even more ambit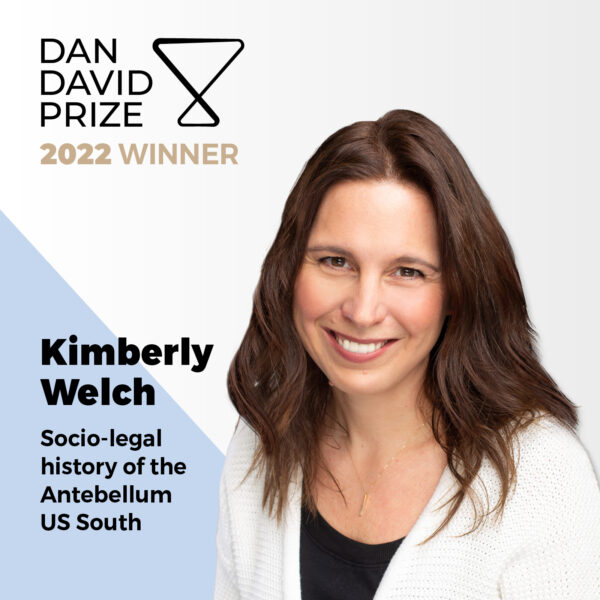 ious and elaborate project on Black Americans, finance and law—one that traverses two continents, involves multiple languages and progresses over two centuries. This project, which could certainly result in more than one book, also demands painstaking archival research and the aggregation of really slippery data. The prize will provide me with the space to do this work," Welch said. 
Welch authored Black Litigants in the Antebellum American South (2018). She is currently working on a book that examines free Black moneylenders and their involvement in the credit economy of the early modern Atlantic world.  
Her first book received several prizes: the William Nelson Cromwell Foundation Book Prize of the American Society for Legal History; the James H. Broussard Best Book First Book Prize, awarded by Society for Historians of the Early American Republic; the J. Willard Hurst Prize for the best book in socio-legal history, given by the Law and Society Association; and the David J. Langum Sr. Prize for best book in American Legal History, from the Langum Charitable Trust.  
Welch was also awarded the Chancellor's Award for Research by Vanderbilt University. Her research has been supported by a multi-year National Science Foundation grant and fellowships from the American Council of Learned Societies, the Newberry Library, the American Bar Foundation, the National Endowment for the Humanities and the Andrew W. Mellon Foundation, among others. 
"I am so pleased that Kimberly has received this outstanding recognition of her groundbreaking work," said John G. Geer, Ginny and Conner Searcy Dean of the College of Arts and Science. "She is an exceptional researcher, and her scholarship provides critical insights into our country's past—an important step in helping us create a better world for our future." 
The nine prize winners were announced on Tuesday at a special online event. Besides Welch, the 2022 prize winners include: 
Mirjam Brusius

,

a

cultural historian who studies visual and material culture in global and colonial contexts

Bart Elmore

, a

n

environmental historian who investigates global capitalism and its impact on the environment

Tyrone McKinley Freeman

, a historian of philanthropy who looks at the long story of African American community giving

Verena Krebs

, a historian of medieval Ethiopia who studies cross-cultural interactions between Africa and Europe

Efthymia Nikita

, a bioarcheologist using human skeletal remains to explore questions of demography and migration

Nana Oforiatta Ayim

, a

curator and art historian whose work centers African narratives in museums and heritage

Kristina Richardson

, a historian of the medieval Islamic world and the Romani people in the pre-modern Middle East

Natalia Romik

, A public historian and architect who works to preserve and commemorate lost Jewish lives in Eastern Europe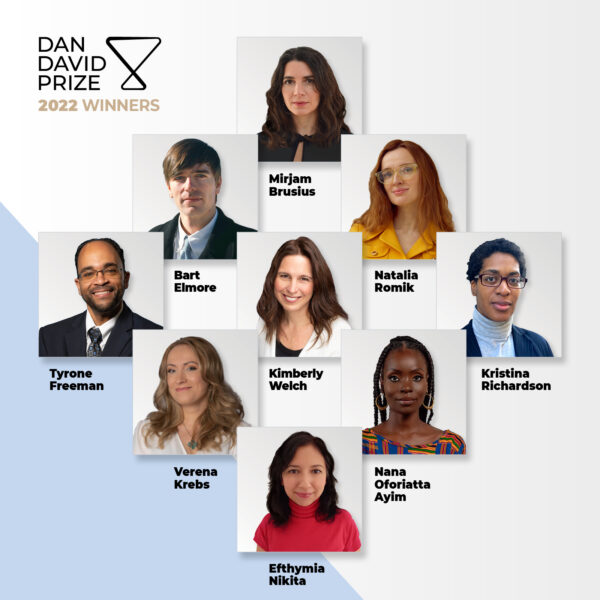 The Dan David Prize was established in 2001 by the late Dan David, an international businessman and philanthropist who was passionate about historical disciplines and archaeology. His aims were to reward those who have made a lasting impact on society with achievements in science and the humanities and to help young students and entrepreneurs become the leaders of the future. 
In connection with the organization's 20th anniversary, the Dan David Prize recently announced a relaunch to focus on the study of the past. Previous Dan David Prize laureates include cellist Yo-Yo Ma (2006); former U.S. Vice President Al Gore (2008); novelist Margaret Atwood (2010); filmmakers Ethan and Joel Coen (2011); distinguished economist and recent Nobel Laureate Esther Duflo (2013); artificial intelligence researcher, neuroscientist and entrepreneur Dr. Demis Hassabis (2020) and infectious disease expert Dr. Anthony Fauci (2021).  
Welch said she's honored to be in the company of previous award winners and is glad the Dan David Foundation has taken an interest in historical research. 
"When thinking about the previous winners, such as Anthony Fauci and Yo Yo Ma, I am still flabbergasted that I am now included in this group of incredible researchers, artists and scholars. It is beyond humbling," Welch said. "I am also so gratified that the Dan David Foundation will now focus the prize on the study of the human past. The study of history is crucial—particularly in the world we live in today."