Creating a more equitable work environment for people of color in STEM fields starts with an atmosphere of shared responsibility for combating racism, according to new commentary published Tuesday by a Vanderbilt University professor in the journal Science. 
Ebony Omotola McGee, professor of diversity and STEM education at Vanderbilt Peabody College of education and human development, calls for the dominant culture in STEM fields to step up to provide remedies for dismantling racism in her editorial, "Dismantle racism in science." 
Faculty of color often disproportionately take on the task of trying to address racial inequalities in science, technology, engineering and mathematics. From institutions appointing faculty members of color to lead anti-racist efforts, asking them to serve on diversity committees and speak on panels about diversity to expecting them to mentor students of color across campus, faculty members of color experience a service burden not shared by their white colleagues. In turn, these colleagues have more time to spend on research that benefits their careers.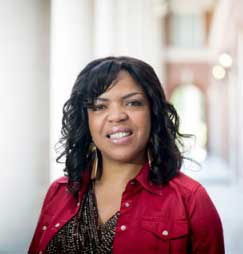 The imbalance can be fixed by creating STEM ecosystems that distribute the responsibility of dismantling racism to everyone, and not just faculty of color, McGee's commentary states. 
"Anti-racism work is hard work, but unless actions move beyond simply tossing about diversity and equity buzzwords, people of color will remain underrepresented in STEM fields. And the United States will continue to miss out on the STEM talent and innovation that exist within communities of color," McGee writes. 
McGee's new commentary builds on her research on disrupting racial and gender disparities in the STEM workforce. In 2019, McGee received a $593,957 grant from the National Science Foundation to study why people of color remain underrepresented and marginalized throughout engineering training and employment. The project, Understanding Employment Trajectories of Racially Minoritized Engineering PhDs, has involved surveying professionals who left engineering jobs for non-engineering positions and the role inequities may have played in their decisions. The grant also includes interviewing people who are still currently working in engineering/STEM and how they persist. 
McGee's grant allows her a chance to further explore an issue known as
equity ethic
. Equity ethic suggests that people of color want to infuse racial and social justice in their STEM occupations and that they feel a disconnect with STEM industries that focus on profits over racial justice.
She has several other research collaborations underway on related topics.