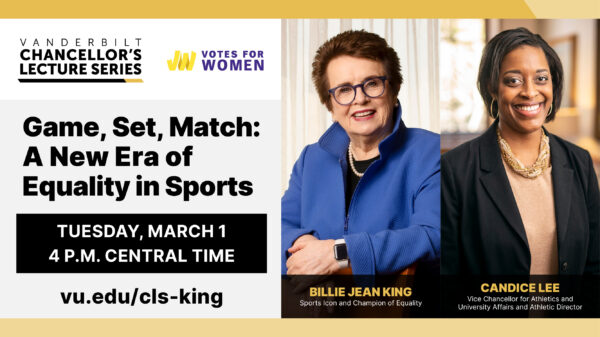 Sports icon and champion of equality Billie Jean King will discuss the past, present and future of sports as part of the Vanderbilt Chancellor's Lecture Series and the university's yearlong celebration of the 50th anniversary of Title IX.
The virtual event, which will be Tuesday, March 1, at 4 p.m. CT, is hosted by Vanderbilt Chancellor Daniel Diermeier and will feature Vice Chancellor for Athletics and University Affairs and Athletic Director Candice Lee in conversation with King. Kicking off Women's History Month, the event is presented in partnership with Votes for Women, Nashville Public Library Foundation.
In "Game, Set, Match: A New Era of Equality in Sports," Lee and King will discuss a range of issues, including the legacy of Title IX and paths forward for future generations.
Enacted on June 23, 1972, Title IX prohibited gender discrimination in public education and federally assisted programs. Although the federal legislation does not specifically mention athletics—and its impact on high school and college sports was not instantaneous—the landmark legislation ultimately opened the door to sports participation for millions of girls and women. In 2020, the NCAA recorded 224,042 female student-athletes, an all-time high and a nearly threefold increase from 1982. Title IX led to similar increases in youth and high school sports participation rates.
Today, Vanderbilt is a leader in women's athletics. In 2020, Lee became the first woman and first Black woman in SEC history to be appointed athletic director. Later the same year, after helping the women's soccer team win the SEC Tournament, Sarah Fuller became the first woman to play and score a point in a Power 5 college football game. Vanderbilt women's teams have won national championships in bowling and tennis, and hurdler Ryan Tolbert won an individual championship in track and field.
Registration is required for this virtual event, which is open to all.
Please note: This virtual event will be available to the public only at the time of streaming: March 1 at 4 p.m. CT. Vanderbilt community members with VUNet IDs will be able to access a recording of the event.
King's legacy
King first rose to prominence as one of tennis' greatest champions. She won 39 Grand Slam singles, doubles and mixed doubles titles, including a record 20 Wimbledon championships.
Beyond King's on-court legacy, she has long championed inclusion and equality in professional sports. In tennis, she expanded opportunities for women by founding the Women's Tennis Association in 1973. She also grew the sport for all players by co-founding World Team Tennis in 1974. Among those who benefitted from competing in that professional league was the late Julie Ditty Qualls, BS'02, a member of the Vanderbilt Athletics Hall of Fame.
In 2009, King was the first female athlete to receive the Presidential Medal of Freedom, the nation's highest civilian honor, and in 2021, she published her autobiography, All In.
The Chancellor's Lecture Series is Vanderbilt University's flagship event series that strives to connect the university community with leaders and visionaries who are shaping our world. The events include and host globally known speakers whose influence and expertise are especially relevant and timely to the issues of the day.