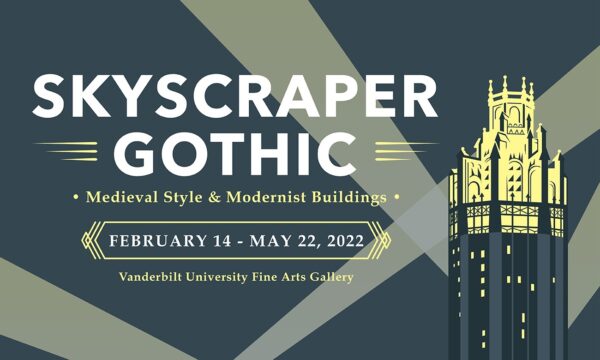 The Vanderbilt University Fine Arts Gallery presents Skyscraper Gothic: Medieval Style & Modernist Buildings, a close, interdisciplinary look at the stylistic development of the tall office building, Feb. 14 through May 22. Skyscrapers are among the most beloved and iconic examples of American architecture. The Woolworth (1913), Chicago Tribune (1925), Radiator (1924) and Empire State (1931) buildings sparked a wave of objects and images that exploited their forms to announce the advent of a modern American style in the early 20th century.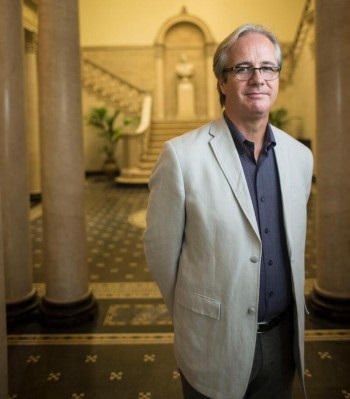 "Beginning with the acquisition of a large collection of previously unknown working drawings for the Woolworth Building in 2015, the Fine Arts Gallery has built a fascinating collection of architectural drawings, prints and paintings of skyscrapers that is especially strong for New York City," said Kevin D. Murphy, who holds the Andrew W. Mellon Chair in the Humanities and is professor of history of art and architecture in the College of Arts and Science.
Murphy co-curated the exhibit with Lisa Reilly, Commonwealth Professor of Architectural History at the University of Virginia. Through numerous objects—including original drawings by architect Cass Gilbert of the Woolworth Building that were specially conserved for this occasion—the exhibit traces the development and pervasiveness of skyscraper Gothic in architectural design on writers, painters, printmakers, designers and filmmakers.
Murphy and Reilly are also co-editors of Skyscraper Gothic: Medieval Style and Modernist Buildings (University of Virginia Press, 2017). The exhibit originated at the Fralin Museum of Art at the University of Virginia, where it was on view during the fall 2021 semester.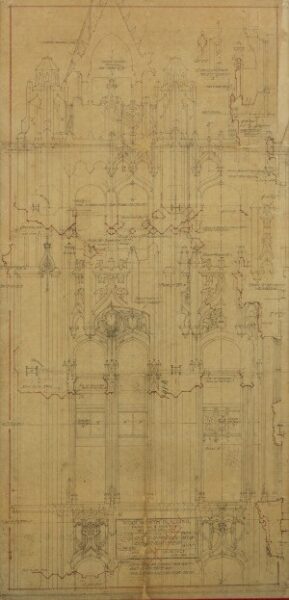 Events scheduled around the exhibition include:
Curators Walk Through, with Murphy and Reilly, March 24, starting at 4:10 p.m. Items they will highlight include a massive iron grate made by famed metalworker Samuel Yellin for the Woolworth Building and a 1914 picture of the New York skyline that was originally painted for one of Harold Stirling Vanderbilt's yachts. Murphy and Reilly will also describe how the large collection of working drawings for the Woolworth Building, made in the office of architect Cass Gilbert,  made their way from the loft of a Maine barn to the Vanderbilt Fine Arts Gallery. A reception will follow in the Cohen Hall Atrium.
Monthly Midday Tour, March 1, April 12 and May 10, from noon to 1 p.m. Join gallery staff for a guided tour with focus on a specific artist or artwork each month.
Art Builds, March 2, April 6 and May 4, from 3 to 4 p.m. Come to the gallery for a drop-in event. Staff will be available to talk about the art and answer questions, or visitors can just enjoy the gallery as a contemplative space.
The Fine Arts Gallery follows Vanderbilt's current access protocols. At this time, access is limited to Vanderbilt University students, faculty and staff with a VU ID. Please email any questions to gallery@vanderbilt.edu.