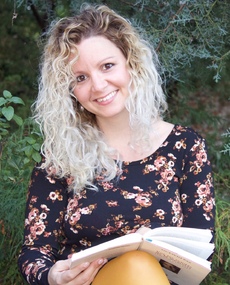 When sixth-year Spanish and Portuguese Ph.D. student Elvira Aballi Morell came to Vanderbilt to work with her mentor, William Luis who serves as a Gertrude Conaway Vanderbilt Professor of Spanish, she realized the importance of creating artistic spaces for Latinx communities.
Aballi's research is primarily about Afro-Cuban religions and how the diaspora frames cultural references, such as symbols and legends, in everyday life.  
"I was working with various Latinx artists during my research and noticed that they do not have enough space to express themselves," Aballi said.  
Luis' classes and Aballi's work with Vanderbilt's Digital Humanities Center sparked an idea for a project to assist in uplifting and inspiring creatives within Nashville's Latinx community. 
Thus, the "HEART – Unifying Communities through Language and Textile Art" workshop was born. 
Aballi had several partners in creating the trans-institutional and community-driven art project with Vanderbilt professors Luis, Jane Landers and Christina Karageorgou-Bastea providing guidance. She worked with the Curb Center at Vanderbilt and colleagues Vladimir Betancur Bedoya, coordinator for the Intensive English Center at Tennessee State University and Colombian textile artist Marcela Castaño Velez.  
HEART also received a grant worth $10,241 from the Mellon Partners for Humanities Education Program, which aims to address a wide variety of issues in the digital and public humanities. 
According to the project's website, HEART is a literature and textile art workshop broken into three sections to create alternative means of expression: Spanish literature and creative writing, English as a second language, and textile art.   
Participants attend meetings at Vanderbilt's Digital Humanities Center, where Aballi oversees the literature and creative writing session, Castano leads the textile art and Betancur heads up the ESL classes.  
 Aballi, a Cuban immigrant, says adjusting to a new life can be challenging. When there are barriers, such as language, in communicating, artistic spaces are crucial to becoming more comfortable in the area.   
"In Nashville, there are not spaces for Latinx creators to build this bridge with the American community," Aballi said. "That's why the English as a second language teachers we work with are so important. I want participants to be able to express themselves and to show to the American public what we as a community can do." 
Aballi has plans to expand the project throughout the U.S., into Mexico and across the globe. "I feel that just giving all Latinx people the opportunity to acquire a second language through creating artistic pieces is important to the continuation of our culture," she said 
For now, though, Aballi wants to make a difference in Nashville: "I want to transform lives and give my community new spaces to express themselves through creative outlets and, in turn, make life easier as they grow into their new life in the U.S." 
About Mellon Partners for Humanities Education Program:
The Mellon Partners for Humanities Education Program, directed by Bonnie Dow, Dean of Academic Affairs for the College of Arts & Science, has funded four annual rounds of Collaboration Grants to support the public-facing work of humanities scholars at the Mellon Partners Consortium:  Berea College, Fisk University, Tennessee State University, Tougaloo College, and Vanderbilt University. Scholars from two or more of these schools are eligible for funds to help address a wide variety of topical issues in the digital and public humanities. Grants like these allow scholars to take intellectual risks in order to develop stronger ties between regional schools and share their interdisciplinary interests and research with the broader public. A total of 27 grants have been awarded and below are just a few that truly represent the breadth, depth, and quality of the work these grants have supported.