The importance of remembering and sharing life stories of all people, including those who have lived at the margins of society, is a central theme of a Vanderbilt Divinity School art exhibition in celebration of Black History Month.
Enter Exit Enter, featuring striking oil portraits and photographs of African Americans by Nashville artist Donna L. Woodley, can be viewed online Feb. 1–25.
The exhibition opening and gallery talk—both of which will be online only—will be from 6 to 7:30 p.m. on Feb. 1.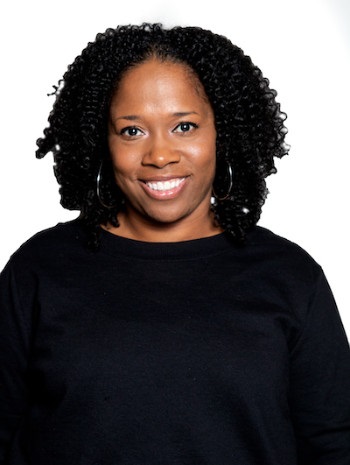 Enter Exit Enter is a collection of works focused on the journey of life, death and faith. "I chose the title Enter Exit Enter as I was thinking about how tombstones usually show a birthdate, dash and date of death for an individual," Woodley said. "The dash becomes a metaphor for a person's particular experiences, and each life story deserves attention. I was also thinking about the role of faith and religion in those life stories, with the Divinity School being an excellent place to consider these themes."
Among the photographs Woodley will include are those of her late cousin, Ron Settles, a star athlete and student at Cal State Long Beach who died tragically 40 years ago while being imprisoned by the Signal Hill Police Department. Woodley is the co-founder of a foundation established in Settles' name to end social injustice and systemic racism. "I call these images the 'residue' that remains with the family after the loved one has died," she said.
Woodley interjects humor in some of her portraits, with images based off selfies and family video chats during the COVID pandemic. Others strike a more somber tone, tied to longtime perceptions of mental health not being a serious issue in the Black community. "In past generations, African Americans were often told 'to get their mind right and just keep praying' and things supposedly would get better," Woodley said. "That old-school perception as it pertains to issues like depression and anxiety is an important theme in my work."
Woodley is an adjunct faculty member at Tennessee State University who has also taught at Sewanee: The University of the South and Austin Peay State University. She created the 2019 portrait of Vanderbilt trailblazer Dorothy J. Wingfield Phillips and assisted recently with a downtown Nashville mural honoring the civil rights legacy of U.S. Rep. John Lewis.
Enter Exit Enter is co-sponsored by Religion in the Arts and Contemporary Culture and the Kelly Miller Smith Institute on Black Church Studies at the Divinity School.
Register for the exhibit opening and gallery talk.
For more information, email Sha'Tika Brown.