Media Inquiries
Latest Stories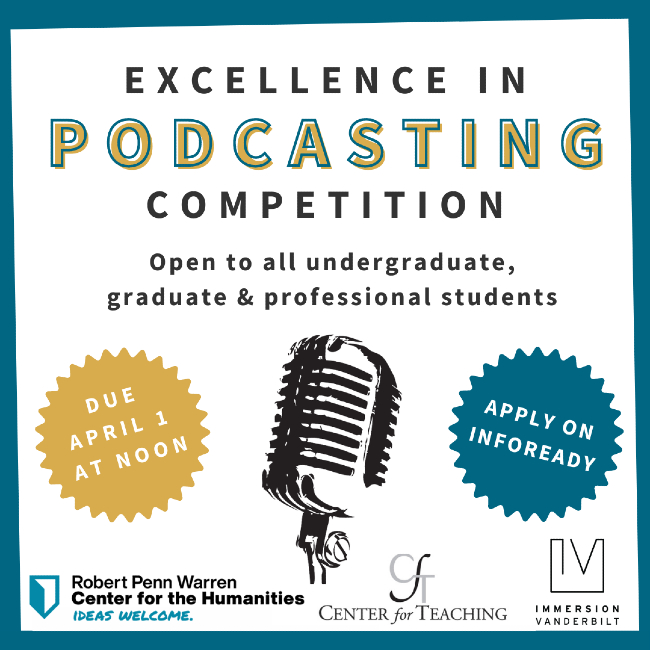 Whether tied to a class, an Immersion Vanderbilt project, or simply a personal passion, a podcast episode or series is a creative and evocative method for students to capture the ear—and imagination—of their audience. Creating a podcast takes dedication and effort, requiring research, technological know-how, curiosity and time.
The second annual Excellence in Podcasting Competition will recognize exceptional student creations. This competition is open to current undergraduate, graduate and professional students at Vanderbilt University. It is sponsored by the Robert Penn Warren Center for the Humanities in collaboration with the Center for Teaching and the Office of Immersion Resources.
Prizes will be awarded in two categories: (1) undergraduate students and (2) graduate and professional students. A grand prize of $500 will be awarded to the first-place winner in each category, while $250 will be awarded to the runners-up. Winning pieces also will be featured on VandyVox, a podcast showcasing the best of student-produced audio at Vanderbilt University. Last year's winning entries can be heard here or by searching "VandyVox" in a podcast app.
Submissions should have some critical or creative storytelling, broadly defined, and may include audio documentaries, radio dramas, panel discussions, spoken word essays and more. We ask that submissions be no more than 20 minutes in length; excerpts from longer pieces or ongoing podcasts will be accepted.
Students are allowed one submission each. All submissions for the Excellence in Podcasting Competition are due by Friday, April 1, at noon. For questions, please contact the Office of Immersion Resources at immersion@vanderbilt.edu.
Interested in learning more about podcasting? Join The Pod, a group of current and aspiring podcasters, for resources and support.