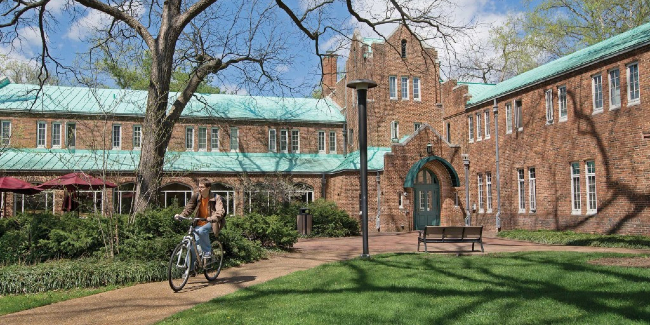 The College of Arts and Science recently announced new developments that will advance language education at Vanderbilt, including a re-envisioning of McTyeire International House and increased opportunities for the Vanderbilt community to engage in the languages. As a result, McTyeire will transition to traditional upper-division student housing beginning in fall 2022, and, with input from faculty, students and staff, A&S will re-envision language education to align with the many changes the university has made over the last two decades.
McTyeire International House has promoted foreign languages and appreciation of different cultures on campus for the past 40 years. Anja Bandas, who has led McTyeire for 25 years, will retire at the end of the 2021-22 academic year. As McTyeire's director, Bandas expanded programming in significant and meaningful ways, including adding the Korean, Russian, Italian and International halls; founding the fireside chats with faculty series; launching the very popular "dessert nights"; and hosting community mixers and cultural celebrations.
"We have a tremendous opportunity to enhance and expand language study at Vanderbilt," said John Geer, Ginny and Conner Searcy Dean of the College of Arts and Science. "Our goals are to better integrate language study into Vanderbilt's residential college system; expand immersive language training and increase flexibility to engage more community members; and help propel language education forward. This future direction would not be possible without the foundation laid by McTyeire International House under Anja's successful and long-standing leadership."
This announcement builds on recent investments A&S has made in the languages, including beginning a search for a new director of the Second Language Program and launching a new postdoctoral program, with help from a recent National Endowment for the Humanities grant to enrich further intellectual life in the humanities, in general, and in the languages, in particular.
"Creating expanded language support and immersive opportunities across the Vanderbilt campus is integral to our mission of global scholarship," said Christoph Zeller, professor of German and European studies. "My experiences as a scholar and residential college faculty head confirm that including language education in the residential setting broadens cultural knowledge and strengthens our academic community."
Students who need assistance through the transition may contact the Office of Housing and Residential Experience at ohare@vanderbilt.edu. More details about developments in language programming will be available in the coming semester.