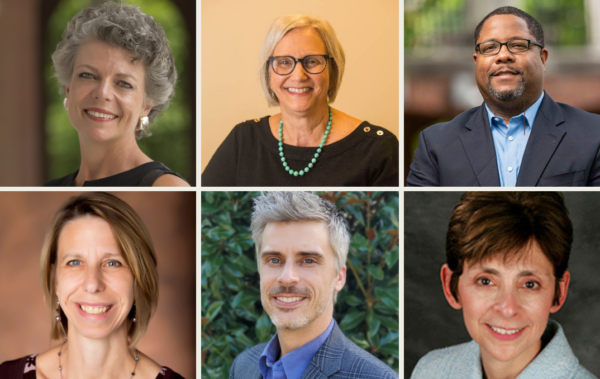 Clockwise from top left: Camilla Benbow, Ellen Goldring, Rich Milner, Lynn Fuchs, Jason Grissom, Carolyn Heinrich
Education Week released today the 2022 Edu-Scholar Public Influence Rankings, an annual list of education researchers who have demonstrated the greatest influence over educational policy and practice. Six researchers from Vanderbilt University's Peabody College of education and human development are among the 200 who made the rankings. 
That means those chosen are the top 1 percent of the more than 20,000 university-based faculty tackling educational questions in the U.S., according to Frederick M. Hess, director of education policy for the American Enterprise Institute. Hess compiles the data each year. 
The rankings draw on nine metrics, including social media presence, book and journal publication and citations, education media mentions and number of times cited by members of Congress.  
"Peabody College faculty members consider it important to share their expertise in public discussions about the educational issues that concern us all, especially given our current challenges. It's good to see their contributions acknowledged," said Camilla P. Benbow, Patricia and Rodes Hart Dean of Education and Human Development of Peabody College. 
The six Vanderbilt faculty members recognized in the 2022 rankings are: 
Milner, a scholar of urban education and teacher education who focuses on issues of equity and diversity, is Peabody's highest-ranked representative on the list. 
"I am thrilled to be included among colleagues at Vanderbilt University and elsewhere being recognized for influential contributions to policy and practice. I deliberately want my work to translate to and impact communities within and outside of traditional scholarly conversations," said Milner. 
"As educational researchers, we have an opportunity to co-construct knowledge with people most impacted by the research we conduct. I count it a real privilege to be able to potentially support and advance equitable policies and practices in education and beyond," he added. 
The complete list of 2022 Edu-Scholar Public Influence rankings and more information about the rubric used to calculate results can be found here.