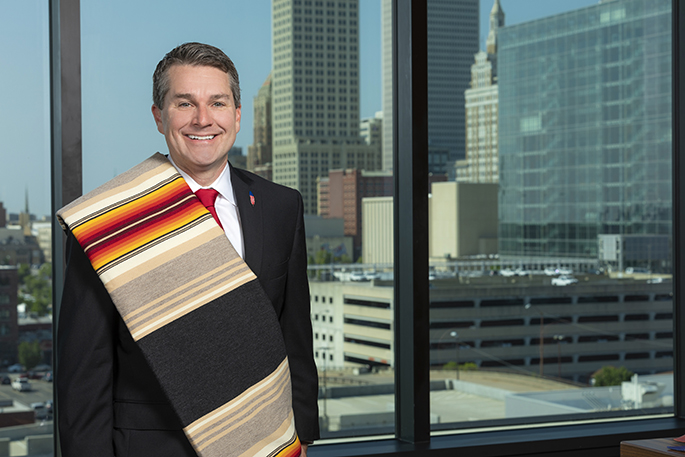 Growing up, Trent Shores knew that he was Native American, but out of respect for his great-grandmother's wishes, his family didn't talk openly about their heritage until late in her life. Shores' mother began using old family bibles, along with birth and marriage certificates found in his great-grandmother's home, to verify their lineage, and they became recognized members of the Choctaw Nation. 
"She grew up during the era of Indian boarding schools, when the intent was 'kill the Indian, save the man'—to separate Native American children from their culture and heritage," Shores says. "To her way of thinking, if she could pass as white, it was better. It was hard for her to overcome a lifetime of hiding her heritage. 
"Native Americans were not recognized as citizens of the United States until 1924, when President Calvin Coolidge signed into law the Indian Citizenship Act," he continues. "Even then, the act did not give Native Americans the right to vote. And so, it was a matter of significance to my great-grandmother that she not be identified as an Indian." 
After earning a bachelor's in political science at Vanderbilt, Shores went on to law school, supported partly by a scholarship for Native Americans. He had a summer externship at the Department of Justice's Office of Tribal Justice. After graduation, he returned to Washington, D.C., to take a position at that same office, launching an 18-year career in public service.  
During his tenure at Tribal Justice, his work included negotiations on the United Nations Declaration on the Rights of Indigenous Peoples, which established a universal framework of minimum standards for the survival, dignity and well-being of the world's Indigenous peoples.  
Shores closed out his public career with a 2017 presidential appointment as U.S. Attorney for the Northern District of Oklahoma, the country's only Native American in such a role. Throughout his career, Shores has been nationally recognized for his efforts to develop and implement strategic responses to Native American policy.  
"It was important to me to give back to my heritage that I knew of but didn't know about," he says of his career. "It has been a very personal journey." 
In 2021, Shores became a shareholder in prominent Tulsa law firm GablesGotwals. Later that summer, the Oklahoma-based Kaw Nation confirmed him as a justice in the tribal Supreme Court, the highest court for its 3,100 members.  
"For 18 years, I was a career prosecutor and trial attorney, and now it's different," he says. "Some days I'm an attorney advising clients, some days I'm a judge. To be a member of the bench is certainly a different perspective. I'm a big believer that we see the world through the prism of our own experiences."  
—Jan Read