Media Inquiries
Latest Stories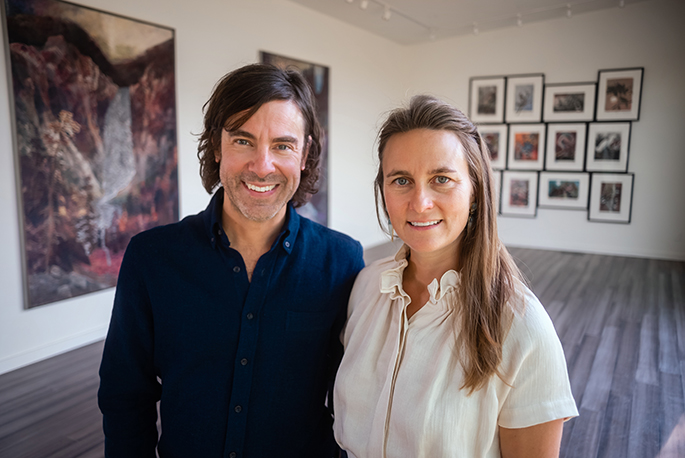 The arts-and-culture scene in Jackson Hole, Wyoming, includes one of the country's finest classical music festivals (Grand Teton Music Festival) along with a spectacular wildlife art museum (National Museum of Wildlife Art). Now, thanks to Camille Obering, BA'00, and Ben Musser, BS'01, this popular resort town, nestled between the Gros Ventre and Teton mountain ranges, boasts a burgeoning contemporary art scene that's as cutting-edge as any you'll find in New York City.
The husband-and-wife team of Musser and Obering are the founders of Guesthouse, an exhibition space and residence that functions as a laboratory for adventurous art. Some of the country's most daring and original visual artists, musicians and filmmakers now visit Jackson Hole to take up residence at Guesthouse and try out new ideas. No project is too avant-garde.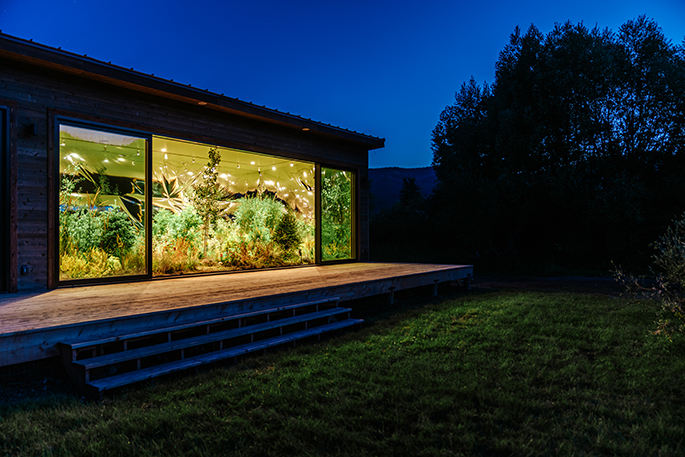 For example, Obering and Musser (under his band pseudonym Benyaro) collaborated with performance artist Millie Brown in 2019 to present Photosymphony: A Live Plant Orchestra, in which plant vibrations were fed into a digital audio workstation to create a live, photosynthesized musical performance. "The plants seemed to react to people when they walked into the space," Musser says. "It's as if they were singing to you."
From July 2021 through January, Guesthouse presented Waterfalls and Birds, an exhibition of Matthew Day Jackson's art that explores the mythology of the American West through the prism of diverse topics like the evolution of human thought, the fatal attraction of the frontier, and man's sometimes misplaced faith in technology.
"When we arrived in Jackson Hole, the town already had a thriving Western art scene," Obering says. "But I felt there was still a need for art that conveyed deeper conceptual ideas."
Obering was perfectly suited to creating a more diverse art scene in Wyoming. A Jackson Hole native, she studied art history and English literature at Vanderbilt before moving to New York City, where she worked for the Whitney Museum and Lincoln Center. The presence of family in the West, along with a sense of opportunity, prompted her to return to Jackson Hole in 2008.
Musser, who studied communications and classical guitar at Vanderbilt, met Obering through a mutual friend after both had already graduated. A musician and composer more accustomed to the music scene in Nashville than the rodeos of Wyoming, he nevertheless followed Obering out West, sensing the same opportunity. Recent musical artists at Guesthouse include Nashville's rising indie star Aaron Lee Tasjan and Duane Betts of the Allman Betts Band.
"Jackson Hole did offer inspiration and plenty of space, but it was hard at first to leave a community of ambitious artists," Musser says. "With Guesthouse, those artists now come to us."
—John Pitcher