Human cultural responses to pandemics, policing in America, Cervantes' Don Quixote, the basics of keeping a sketchbook journal, and the past, present and future of women's athletics are among the study topics offered by the Osher Lifelong Learning Institute at Vanderbilt for its 2022 winter term. Other classes will explore songwriting for non-musicians, the presidency of Barack Obama, Indian and Japanese cultures, and witches and fairies in Shakespeare's plays.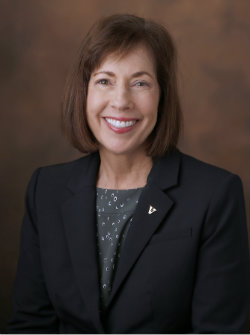 "We are excited to offer this academically rigorous curriculum, which is taught by Vanderbilt faculty and other outstanding instructors, while continuing to build connections and lasting friendships among our lifelong learners," said Norma Clippard, program director at OLLI at Vanderbilt. "All of our classes are taught in a welcoming and supportive environment, and we also host shared interest groups that focus on books, film and walking on Nashville's beautiful greenways."
Registration is open for these noncredit courses, which are open to all those older than 50. The courses are individually priced, ranging from $30 to $80.
The following courses will be online via Zoom:
Music, Pandemics and History, taught by Cynthia Cyrus, professor of musicology. Students will examine the responses of musical composers throughout the ages to outbreaks of disease. They also will juxtapose their own experiences with COVID-19 with music from the historical past. The class meets six Mondays, starting Jan. 10.
Witches, Fairies and Nature in Shakespeare's Plays, taught by Denice Hicks, executive artistic director, Nashville Shakespeare Festival; and Marcia McDonald, professor of English, Belmont University. They will lead the students into an exploration of the magical, mysterious and natural worlds in Romeo and Juliet, Macbeth and A Midsummer Night's Dream. Nashville Shakespeare Festival actors will perform play excerpts during the final session. The class meets three Mondays, starting Jan. 10.
Drawing Your Life: Learning How to Keep a Sketch Notebook, taught by Art Witulski, research professor of electrical engineering. He will focus on how to keep a sketchbook journal, including materials, basic drawing, painting techniques and different styles of sketchbooks. Students will begin by drawing simple objects, then progress to interior rooms and outdoor landscapes. No art experience is needed. The class meets six Tuesdays, starting Jan. 11.
Title IX at 50: Women in Sports, taught by Andrew Maraniss, BA'92, director of special projects, Vanderbilt Athletics, and a New York Times bestselling author. Title IX legislation, which changed the course of women's sports in the United States, turns 50 in 2022. This course provides an overview of the history and current state of women's athletics as well as a look forward. Maraniss will lead interviews with a diverse mix of guests joining the class, including athletes, administrators, journalists and scholars from around the nation. The class meets for six Tuesdays, starting Jan. 11.
Cultures of India and Japan, taught by Divya Chaudhry, senior lecturer in Hindi-Urdu, Asian Studies; and Asami Nakano, lecturer in Japanese, Asian Studies. Using a combination of immersive activities and individual/collaborative research, students will gain a broad understanding of the target cultures, enhance their critical cultural awareness, and develop attitudes of curiosity and critical questioning. The class meets for six Wednesdays, starting Jan. 12.
Barack Obama: Man and President, taught by Dennis Dickerson, professor of history who holds the Reverend James M. Lawson Chair. Students will examine the presidency of Barack Obama as well as explore the background influences that shaped him as a man and affected his domestic and foreign policies. The class meets for six Wednesdays, starting Jan. 12.
Policing in America: Evolution and Controversy, taught by Laurie Woods, senior lecturer in sociology. The course will trace the roots of police in America and the evolution of police power through unions, public support and political emphasis. Special attention will be given to police brutality issues, the role of media in framing the public's ideas of policing, the militarization of police forces, and the relationships between law enforcement and the citizens they are paid to serve. The class meets for six Thursdays, starting Jan. 13.
A Don Quixote Sampler, taught by Edward Friedman, Gertrude Conaway Vanderbilt Professor of Humanities, Emeritus, and professor of Spanish, emeritus. The course will consist of the reading and discussion of sample chapters of Don Quixote, with emphasis on Part One, and commentary on the text as a whole, so that participants will have a vision of the comprehensive narrative. The goal is to give students a sense of the scope, the parameters, the artistic and conceptual brilliance, and the well-merited classic status of Don Quixote. The class, limited to 25 students, meets for six Thursdays, starting Jan. 13.
Songwriting for Non-Musicians, taught by Cliff Goldmacher, Grammy-recognized songwriter, music producer, audio engineer and author. He will give students big-picture insights into the songwriting process and then delve into the details of what makes songs work. Participants will be guided through the process of turning their ideas and memories into a finished lyric with proper song structure that can be put to music. The class meets for six Fridays, starting Jan. 14.
OLLI at Vanderbilt is housed within the Division of Government and Community Relations. For more information, email OLLI at Vanderbilt or call 615-322-6511.