By Melinda Rogers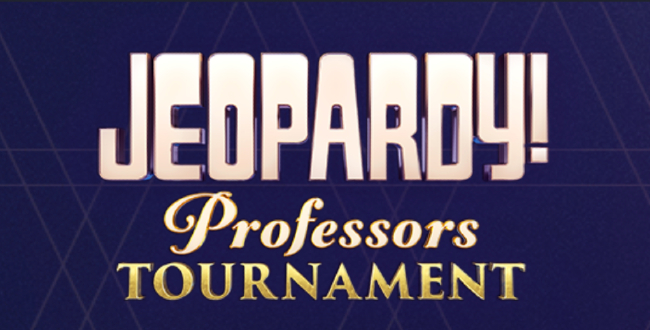 Clue: He's an expert on First Amendment law and technology policy who will compete on television's most popular quiz show on Dec. 6.
Answer: Who is Gautam Hans, associate clinical professor of law?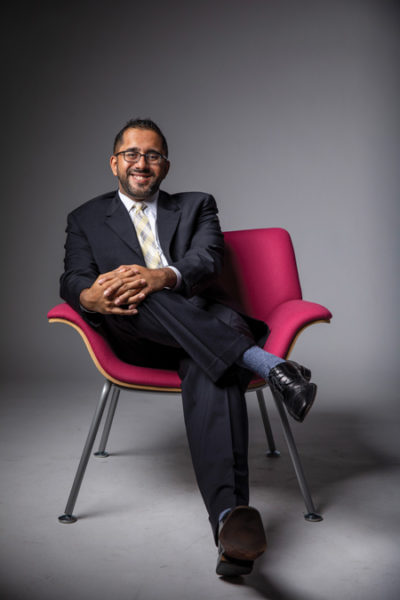 Hans is scheduled to appear on Jeopardy! for the gameshow's inaugural "Professors Tournament," where he'll compete against Hester Blum, an English professor at Penn State University and Gary Hollis, a chemistry professor at Roanoke College.
Hans, a longtime Jeopardy! fan, grew up in the suburbs of Detroit shouting answers at the television while host Alex Trebek peppered guests with questions. It was one of the few shows that his parents, both doctors who are immigrants from India, considered acceptable viewing because of its educational value.
"I love the show. I loved Alex Trebek, he was such an icon," said Hans, who dressed up as the Jeopardy! host for Halloween when he was in third grade.
He received an invitation to appear on the show after completing a 50-question Jeopardy! test online for fun during the pandemic, scoring well enough to qualify for further screening. He is one of 15 college professors from across the country to compete in the tournament. The champion will be determined in a showdown scheduled for Dec. 17.
"Gautam is a beloved faculty colleague, a gifted teacher and scholar, and one of the most engaged and engaging members of our community," said Chris Guthrie, dean of Vanderbilt Law School and John Wade–Kent Syverud Professor of Law. "We are very fortunate to have him at Vanderbilt, and we wish him all the best on Jeopardy!"
As director of Vanderbilt Law's Stanton Foundation First Amendment Clinic, Hans supervises students on cases involving individual and organizational rights to freedom of speech, press and association. The clinic has worked in Tennessee and nationally to assert First Amendment rights through federal and state litigation, policy advocacy, legislation and client counseling. Students in the clinic take leadership roles in all aspects of litigation, including case development, pre-trial civil litigation, oral advocacy, counseling, and research and writing.
Hans said he draws parallels between Jeopardy! and practicing law when it comes to the art of asking questions.
"Sometimes a question can be tricky or weird, and you have to say, 'What are the clues in the question?'" he said. "When you see people make mistakes in the show, it's very similar to how people make mistakes before a judge. That became very clear to me when I was watching and preparing."
TUNE IN
What: Vanderbilt University Associate Clinical Professor of Law Gautam Hans competes on Jeopardy!
When: Quarterfinals of "Professors Tournament" are on Monday, Dec. 6, 2021
Where: In Nashville, Jeopardy! airs weekdays at 5 p.m. on WZTV, Fox 17.  Air times in other regions can be found by visiting https://www.jeopardy.com/watch .
Fun Fact: Outside of being a trivia star, Hans makes ice cream and chronicles his creations on a blog titled Habeas Custard.