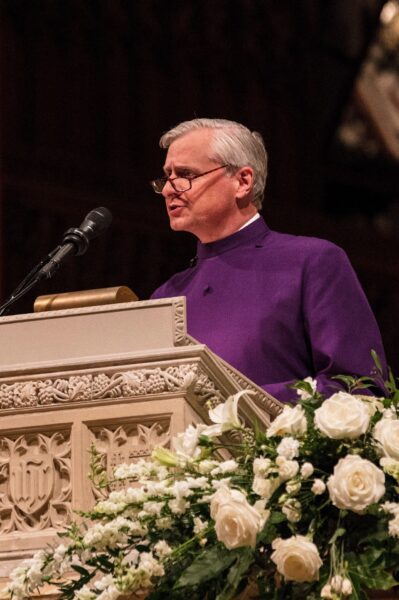 Jon Meacham, a Pulitzer Prize-winning biographer and the Carolyn T. and Robert M. Rogers Professor of American Presidency at Vanderbilt University, was formally installed as Canon Historian of the Washington National Cathedral on Nov. 7.
Meacham, who is also co-chair of the Vanderbilt Project on Unity and American Democracy, will preach and lead public conversations several times a year at the National Cathedral on issues of faith, spirituality and civic life.
Meacham is the first person to hold the title of canon historian. "In his new role, we look forward to Jon's ability to enlighten and to elucidate, bringing together his rare insights on history, theology, culture and the American story," said The Very Rev. Randolph Marshal Hollerith, dean of Washington National Cathedral.
In 2018, Meacham eulogized former President George H.W. Bush, the subject of one of Meacham's three presidential biographies, during Bush's funeral at the National Cathedral.
Among the dozen books that Meacham has authored or co-authored is His Truth Is Marching On: John Lewis and the Power of Hope. He spoke on Lewis' legacy during a lecture series at the cathedral last spring.
U.S. Speaker of the House of Representatives Nancy Pelosi and journalist Evan Thomas delivered readings at Meacham's installation service, where chaplains of the House and Senate were also formally seated in their stalls.
View video of the Canon Historian installation service for presidential scholar Jon Meacham.