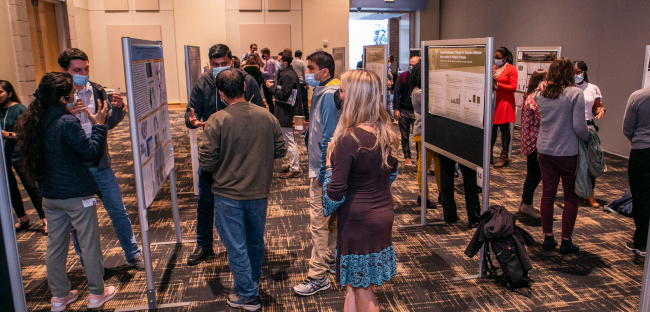 The Vanderbilt Postdoctoral Association's 15th annual symposium, featuring a keynote seminar, poster sessions and presentations and talks by university and Vanderbilt University Medical Center postdoctoral scholars, was held Nov. 1.
C. Cybele Raver, provost and vice chancellor for academic affairs, addressed the postdoctoral scholar community about the importance of their time at Vanderbilt. "No matter your discipline, or whether you are preparing for a future career in the biological and physical sciences, engineering, humanities, law, business or social sciences, I truly believe your work at Vanderbilt will make a profound and positive impact on humanity," she said.
The symposium was the first in-person scholarly event for the VPA since the COVID-19 pandemic began. For many postdocs, the event was the first opportunity to meet peers outside of their labs or departments.
André Christie-Mizell, vice provost for graduate education and director of the Office of Postdoctoral Affairs, challenged the postdocs to be engaged and inspired by the work of their colleagues and to use the symposium to experience new avenues of inquiry and understanding. He also encouraged postdocs to network and explore ways in which their work can live out Vanderbilt's commitment to radical collaboration.
Adia Harvey-Wingfield, vice dean of faculty development and diversity and professor of sociology at Washington University in St. Louis, presented the keynote seminar, "Professional Work in a 'Post-racial' Era: Black Health Care Workers in the New Economy."
In addition, several award winners were recognized during the symposium for their excellence in research for poster presentations and short talks.
Symposium award winners
Best Lightning Talk
Harry Barbee (VU): Medicine, Health and Society
Michael Kammer (VUMC): Medicine
Best Poster Presentation
Chitra Basu (VUMC): Medicine
Clément Garin (VU): Biomedical Engineering
Hubaidi Fuseini (VUMC): Medicine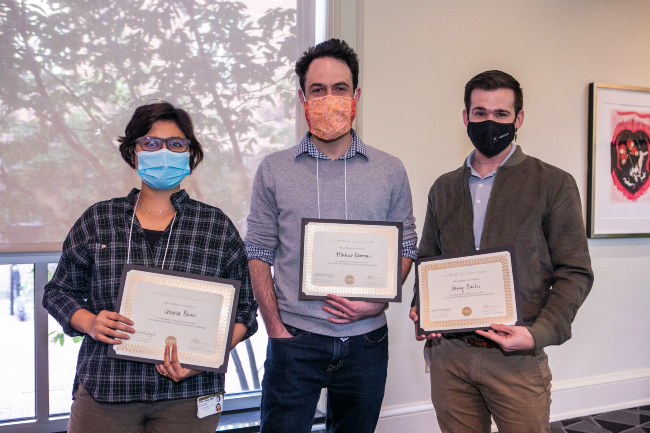 "The annual Vanderbilt Postdoctoral Association Symposium is a rare opportunity for postdoctoral scholars across all departments from Vanderbilt University, Vanderbilt University Medical Center and neighboring institutions to come together and support fellow postdocs and their work," said Brianna Yamasaki, senior co-chair of the VPA. "I would like to thank our university leadership, Provost C. Cybele Raver and Vice Provost André Christie-Mizell; our sponsors, the Office of Postdoctoral Affairs and the Office of Biomedical Research and Training; all of our amazing presenters; our invited speakers, Dr. Adia Harvey Wingfield and Dr. Ashley Brady; our faculty judges; and the symposium planning committee for making this year's symposium so successful."
About Vanderbilt's Postdoctoral Scholars Community
Vanderbilt postdoctoral scholars, commonly known as postdocs, are professionals who have earned doctoral degrees and are, in most cases, temporarily pursuing additional scholarly training, experience and research progress necessary for a wide range of career paths. Postdocs play an important role in Vanderbilt's research enterprise and are integral to the discovery and learning mission of Vanderbilt University and Medical Center. At any given time, Vanderbilt has about 450 postdocs across both VU and VUMC. To learn more, visit vu.edu/postdocs.