Media Inquiries
Latest Stories
The Student Center for Social Justice and Identity joined with campus and community partners to host a grand opening Oct. 27 of the Multicultural Community Space, an exciting new venue created for students in more than 30 student organizations that are part of the Multicultural Leadership Council or are supported by SCSJI. The Multicultural Community Space is located at 200C 25th Ave. S. in the West End Neighborhood.
A ribbon-cutting ceremony welcomed guests into the new space to view the identity-centered art and decor, participate in reflective activities, and engage with multicultural student organization members. The event highlighted the hard work and dedication of students and university administrators who wished for a safe and transformative place where students can collaborate and exchange dialogue that affirms and celebrates their various identities, bringing new and dynamic energy to the West End Neighborhood.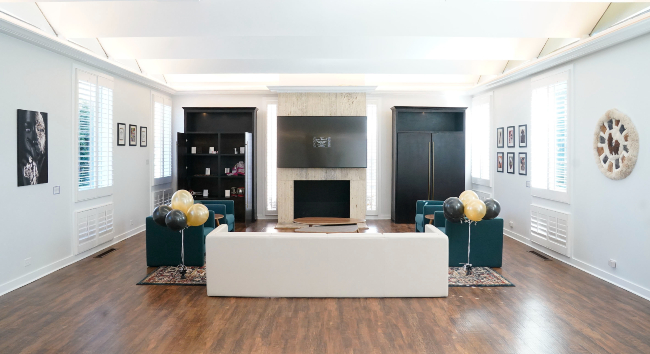 The grand opening included remarks from Ashley Brown, director of SCSJI; G.L. Black, vice provost for student affairs and dean of students; André Churchwell, vice chancellor for equity, diversity and inclusion and chief diversity officer; and Safa Shahzad, Multicultural Leadership Council president. In addition, the Indigenous Scholar Organization made a land acknowledgement statement and presented a ti leaf lei, a gift to be hung in the MCS to bless the space with positive energy and growth.
During his remarks, Black commended the students for their advocacy and collaboration with university administrators to create the space and encouraged those in attendance to look toward the future.
"I look forward to watching and supporting our students and multicultural groups as they make this space their own, and to engaging with the community through all of the amazing programs, events and performances that are sure to quickly fill this space," Black said. "We must recognize, however, that this is only a step in the journey to create an environment where all students feel a sense of belonging. We have more work to do, and I hope this space serves as an example of how we can work together to continue improving our campus and demonstrating our shared commitment to diversity, equity and inclusion."
The Office of the Dean of Students is committed to creating a welcoming, inclusive environment that fosters a sense of belonging and the development of connections and community, all of which are essential to the student experience.