Chancellor Daniel Diermeier commended the staff for working "selflessly, tirelessly, and in boldly innovative ways" to set a new standard for the university during his remarks at the second annual Fall Staff Assembly.
"In our mission to contribute all that our university has to offer toward improving our world for the better, staff have been a driving force," Diermeier said. "Without the wide-ranging talent, dedicated work ethic, strategic know-how and can-do attitude of our staff, Vanderbilt's impact as one of the world's leading research institutions would never be possible."
The event was at the Student Life Center ballroom on Nov. 2. Due to technical difficulties, the livestream was not available, but the full recording is available for viewing anytime.
Tiffany Lawrence Givens, president of the University Staff Advisory Council, moderated the Fall Staff Assembly, which also included remarks from Ryan Middagh, vice chair of the Faculty Senate and assistant professor of jazz, and student leader Maddie Woods, a member of the Class of 2022.
The event included the presentation of six new awards for staff member and team excellence by Diermeier and Vice Chancellor for Administration Eric Kopstain.
Community Impact Award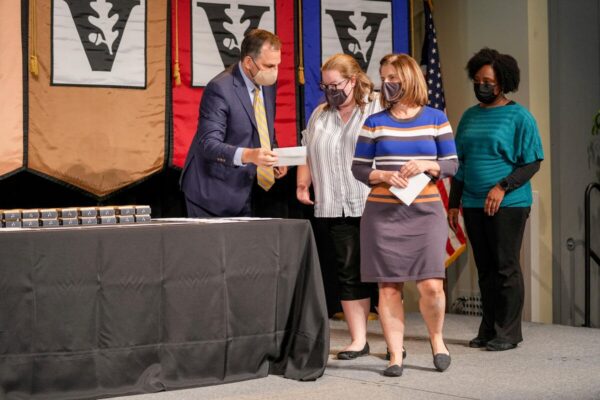 The Community Impact Award recognizes a full-time staff member or team that represents Vanderbilt through community engagement, service, leadership or other outreach, and creates a better understanding of the university to external audiences. The six members of the childcare administration team at the Vanderbilt Child and Family Center were recognized with this award:
Sheteka Phillips
Linda Wilson
Jamie Broadwater
Elaine Gallagher
Angela Jones
Sophia Murray
From the nomination, "The childcare administration team's achievements were amazing during the challenging circumstances of the pandemic. They adapted to the pandemic protocols and the changing needs of Vanderbilt working parents while staying focused on the goal of excellence in early childhood education. Moreover, they used humor to manage all of the difficulty of the time and turn it into opportunity."
Innovation Excellence Award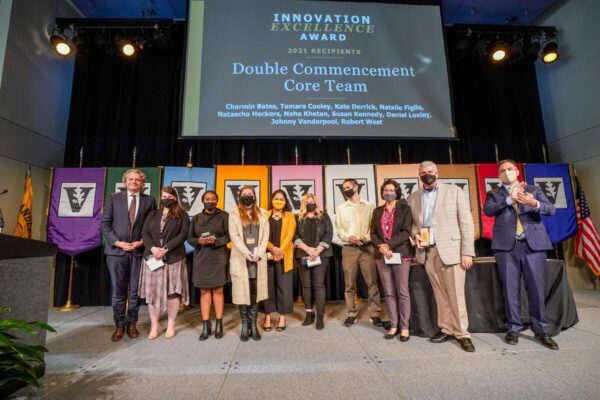 The Innovation Excellence Award is given to a full-time staff member or team that demonstrates excellence in innovation that has had a meaningful and significant impact on a process, program or initiative at the university in the past 12 to 18 months. This award was presented to the 10 members of the Double Commencement core team:
Charmin Bates, Communications and Marketing
Kate Derrick, Communications and Marketing
Natalie Figlio, Communications and Marketing
Neha Khetan, Communications and Marketing
Natascha Heckers, Communications and Marketing
Daniel Loxley, Athletics
Tamara Cooley, Public Safety
Johnny Vanderpool, Emergency Preparedness
Robert West, Plant Operations
Susan Kennedy, Office of the Chancellor
From the nomination, "This team led the design and development of the university's first-ever double Commencement, with multiple ceremonies held across two weekends last May. Innovation was at the core of every aspect of the events—nearly every detail about Commencement this year had to be redesigned or newly created in response to the COVID-19 pandemic."
Leadership Excellence Award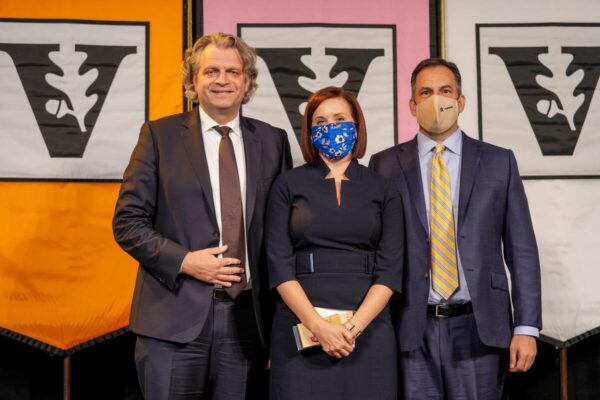 The Leadership Excellence Award is given to a full-time staff member who shows outstanding commitment to the university's mission by building engagement and trust, coaching and developing others, leading with courage and building partnerships. A demonstrated commitment to empowering, educating and supporting colleagues is required. There were two recipients in this category:
Cara Tuttle Bell, director of the Project Safe Center for Sexual Misconduct Prevention and Response
Mark Harrington, supervisor of control systems, Utility Distribution
From the nomination, "Since 2014, Bell has served as director of Project Safe, building a nationally recognized program that has become a model for many other similar centers at colleges and universities across the nation. She is firm and passionate about her role, which is advocating for those impacted by sexual harassment and assault."
From the nomination, "Harrington has been vital to the success of Facilities in Plant Operations as a team lead and supervisor of two groups. As the university's Return to Campus was planned, he helped the Controls staff to write and implement increased outside air programs to ensure the health and safety of those on campus, while also resulting in thousands of dollars of energy savings and hundreds of tons of greenhouse gas avoidance."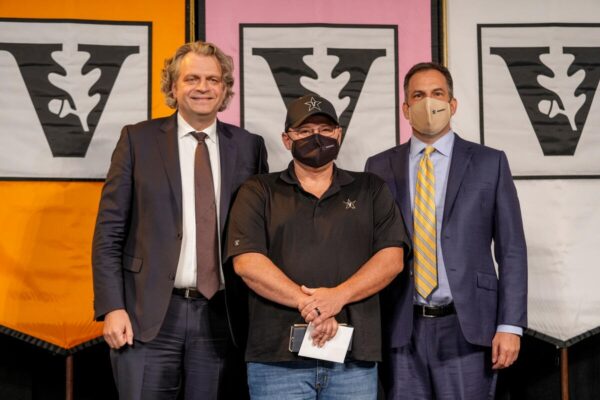 Professional Excellence Award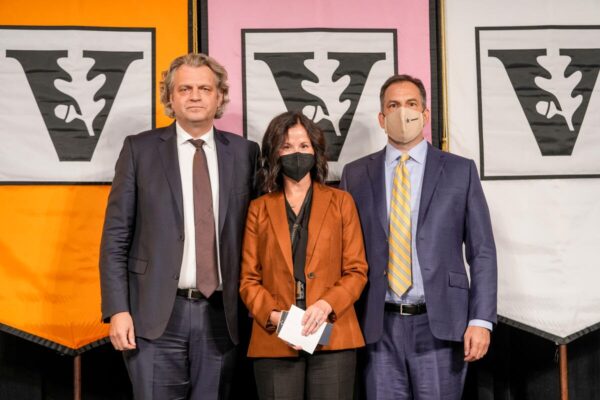 The Professional Excellence Award is given to a full-time staff member who contributes to the university's success and has gone significantly above and beyond specific job duties and has demonstrated excellence in supporting Vanderbilt's mission. There were two recipients in this category:
Christina Cunningham, director of administration, Undergraduate Affairs and Residential Faculty
Anthony Jones, senior cook at The Commons Dining Center
From the nomination, "Through hard work and an unwavering commitment to our undergraduate students, Cunningham and a very small team successfully launched The Martha Rivers Ingram Commons in 2005 and then transformed it into the flourishing community it is today. She maintains a positive attitude and makes all types of things happen so that other people can thrive and play their roles as fully and well as possible."
From the nomination, "Jones is often recognized as a role model for other members of The Commons dining team. He has high respect for others, and this respect encourages professionalism in the workplace. He also truly engages with the students and other guests in the dining center."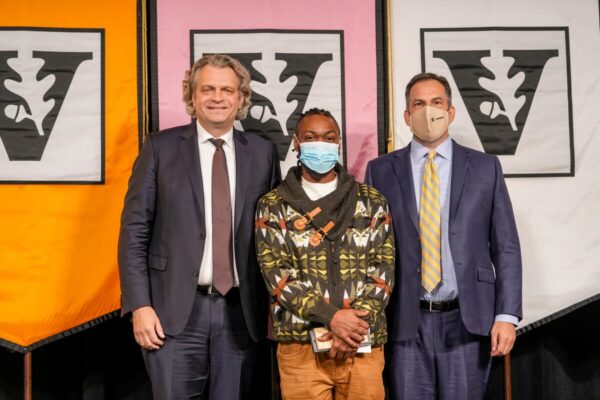 Research Excellence Award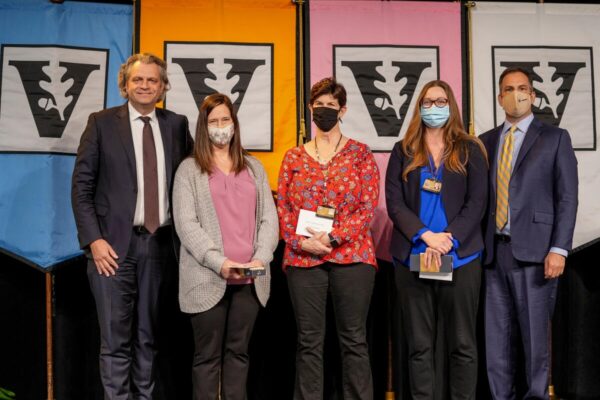 The Research Excellence Award recognizes a full-time staff member or team whose efforts in support of research at Vanderbilt University have been exemplary and made a significant impact in the process of discovery or knowledge. This award was presented to the three members of the Vanderbilt Genome Editing Resource:
Jennifer Skelton
Linda Gower
Leesa Sampson
From the nomination, "This team is exceptionally scientifically and technically skilled. Many of their efforts work on the first try, a credit to their skill, attention to detail, innovation, continued education, creativity, troubleshooting capabilities and work ethic."
Student Impact Award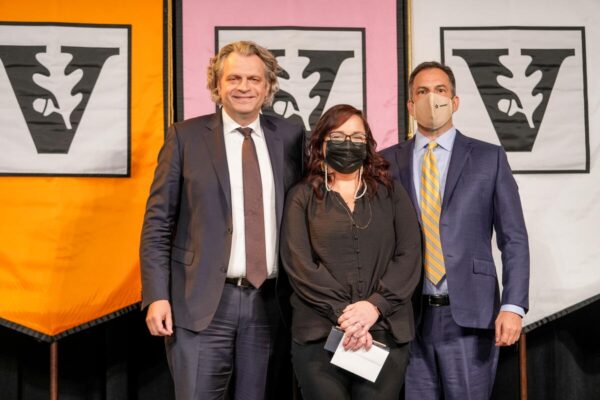 The Student Impact Award is given to a full-time staff member or team who has gone above and beyond to positively affect the quality of life of students at Vanderbilt University. This award was presented to Michelle Kovash, associate director for student affairs at Vanderbilt Law School.
From the nomination, "During the significant challenges experienced by students during the pandemic, Kovash has spearheaded new initiatives to provide multiple avenues for student support, reinforcement of the student care network and overall health and wellness. Her efforts have helped create a framework for law student success."
Winners will receive a monetary prize and a keepsake honoring their contribution to the university.