Media Inquiries
Latest Stories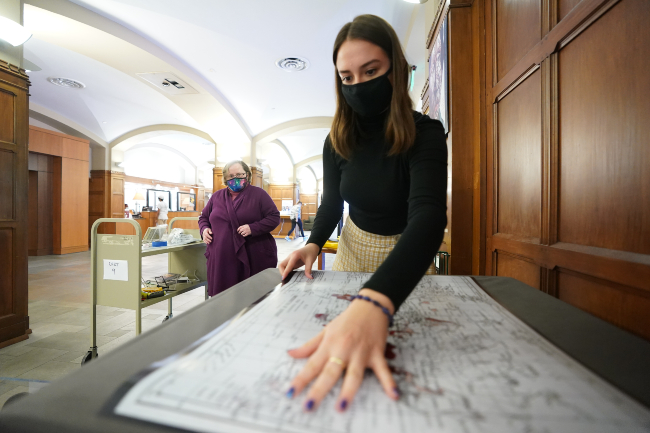 A new student exhibit at Central Library explores the connection between disease and isolation while drawing parallels to the COVID-19 pandemic.
Lia Okenkova, a junior cognitive studies and educational studies major from Naples, Florida, created "Depictions of Leprosy: Isolation for the Ages," which features art and literature from the Vanderbilt Fine Arts Gallery and Central Library, as well as original poetry, that relates to historical and creative representations of leprosy. Okenkova's pop-up exhibit, now on display in the Central Library's fourth-floor lobby, is part of the Art of Healing Exposition, a large-scale project featuring works from the World Health Organization's Art to Act for Health initiative and Nashville-area artists displayed across Vanderbilt's campus and the city through December 2022.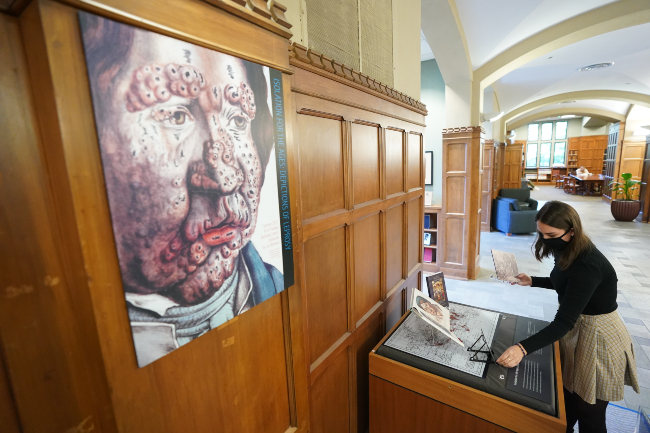 While considering the Art of Healing theme, Okenkova was drawn to the idea of medical illustrations as an art form. "After digging through the stacks of Central Library, I came across this incredibly vivid—and creepily beautiful—book: The Sick Rose: Disease and the Art of Medical Illustration by Richard Barnett," she said. "The shocking illustrations of leprosy, especially, called to me in the midst of our own pandemic.
"Leprosy is a disease of literally biblical proportions that dealt with the isolation we have come to know so well in extreme ways," Okenkova noted. "All of these considerations led me to learn more about leprosy and the way it's portrayed."
To curate her exhibit, Okenkova explored the vast Jean and Alexander Heard Libraries system, from Special Collections and University Archives to the Fine Arts Gallery to the History of Medicine Collection at Eskind Biomedical Library to the many floors of Central Library. "The archivists, librarians and staff helped me hone my research skills and think of research in new ways," she said.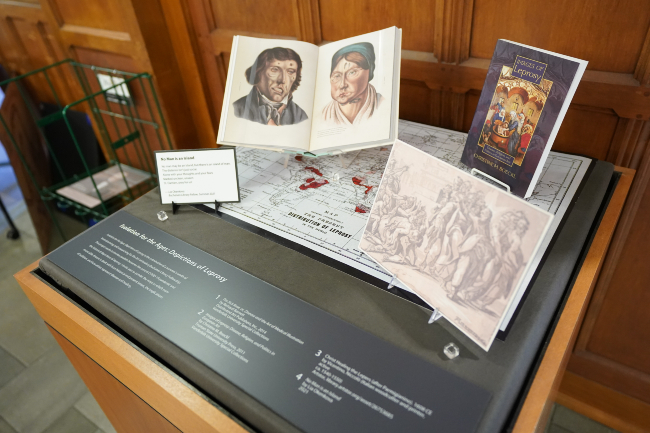 Okenkova participates in the Buchanan Library Fellowship, a program that supports hands-on student learning opportunities that build skills and deepen understanding of resources and services in the Vanderbilt libraries. The fellowship focuses on undergraduate instruction and connects faculty and professional librarians with students to work on experiential library projects that culminate in a formal presentation.
"I had a wonderful experience as a Buchanan Library Fellow. I got to learn so much about the incredible materials students have access to here at Vanderbilt that go unnoticed by so many, and I had the chance to sharpen my curatorial and research skills all the while," Okenkova said. "I'm especially grateful for the support I got from (Vanderbilt Army ROTC instructor) Brandon Hulette and (local photographer) Marcie Kindred, who advised me during my time as a Buchanan Library Fellow."
"Depictions of Leprosy: Isolation for the Ages" will be on display in Central Library through January 2022.