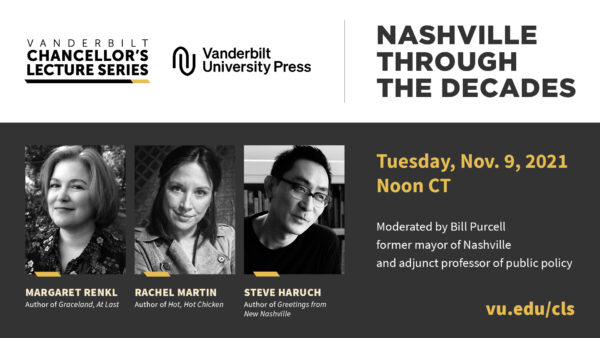 Author and New York Times columnist Margaret Renkl will join Vanderbilt University Press authors Rachel Martin and Steve Haruch to discuss the evolving nature of Nashville and the American South through culture, food, race relations and politics in a special panel discussion.
The virtual event, "Nashville Through the Decades," will be streamed Tuesday, Nov. 9 at noon CT and is hosted by the Chancellor's Lecture Series in partnership with Vanderbilt University Press.
The discussion is free and open to the public. Registration is required.
PANELISTS:
Margaret Renkl is a Nashville-based contributing opinion writer for The New York Times who writes about politics and culture in the American South. She is the author of Late Migrations: A Natural History of Love and Loss, and her latest book, Graceland, At Last: Notes on Hope and Heartache From the American South, is a collection of her essays on human decency, natural beauty and persistent hope.
Rachel Martin is the author of Hot, Hot Chicken: A Nashville Story, which recounts the history of Nashville's Black communities through the story of the city's hot chicken scene—from the Civil War, when Nashville became a segregated city, through the tornado that ripped through North Nashville in March 2020.
Steve Haruch is a writer, editor and filmmaker based in Nashville. His book Greetings from New Nashville: How a "Sleepy" Southern Town Became "It" City explores the transformation of Nashville.
Former Nashville Mayor Bill Purcell will moderate the discussion. He currently serves as an adjunct professor of public policy in the College of Arts and Science at Vanderbilt.