With the crisp, cooler temperatures, Vanderbilt's iconic white oaks have begun dropping their acorns. While the campus squirrels are busily storing their share, Vanderbilt has partnered with the Tennessee Department of Forestry to collect acorns to plant the forests of the future.
Vanderbilt Facilities and the Department of Forestry set up nets on the Peabody College campus to collect acorns from some of Vanderbilt's dozens of white oaks. The collected acorns will be taken to East Tennessee, where they will be grown and cultivated for a year before the seedlings are distributed across the state. The goal of this project is to increase the genetic diversity among the state's population of trees.
"We consider Vanderbilt a partner because they have these gorgeous, luscious white oaks," said Gina Sowders, a reforestation unit leader in the Tennessee Department of Agriculture's forestry division. "We are thinking of the future in the long term. This probably isn't for us; it is for our children and grandchildren. Like they always say, 'What's the best time to plant a tree? Twenty years ago.' Next best is today."
Vanderbilt's campus landscape architect, James Moore, said that each mature white oak can support more than 500 species of butterfly and moth caterpillars, which in turn provide songbirds with a rich food source.
"It's especially wonderful to partner with the state to help grow more of our great white oaks across the state. White oaks are tough and long-lived, and they provide enormous ecological benefits," Moore said.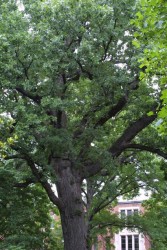 More than 6,000 trees and shrubs representing almost 200 different species are growing on Vanderbilt's 340-acre campus. The oldest and most famous tree on campus is the Bicentennial Oak, which is believed to have sprouted before the American Revolution.
"Vanderbilt's campus is an arboretum, and we take great care of all of the species of trees here," Moore said.
Story written by Shelby Pendowski