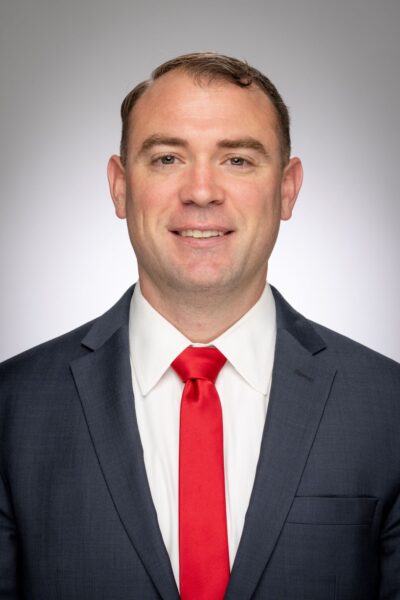 Andrew Hodlin, a first-year law student at Vanderbilt Law School, has been awarded the John S. Beasley II Scholarship as part of Vanderbilt University's Bass Military Scholars Program, which welcomed its third cohort of military veterans this fall.
Established in 2018, the Bass Military Scholars Program was made possible by a transformational $25 million gift from the Lee and Ramona Bass Foundation. The foundation named one of the scholarships within the program in honor of alumnus John S. Beasley II, BA'52, JD'54, and specified that the scholarship be awarded to a Navy veteran each year. Beasley is a former U.S. Navy officer and served as a Vanderbilt administrator for more than 50 years.
"America is based on individual rights and responsibilities. Today we seem to assert the former and ignore the latter," John S. Beasley II said. "But not Marines, who every day acknowledge and discharge their responsibility to their country, to each other, and to society as a whole. It will be great to have Andrew as a Bass Scholar."
Hodlin was an infantry officer in the Marine Corps. He deployed to the Helmand Province in Afghanistan and to Okinawa, Japan, before working in training command teaching new Marines and others basic combat skills. In recent years, Hodlin worked on mobilization planning for reserve personnel during national emergencies and providing active-duty units around the globe with personnel as needed.
He earned his bachelor's degree in criminal justice from the University of New Haven and an MBA from the University of Southern California. At Vanderbilt Law School he is pursuing his J.D. as part of the Law and Business program. After graduation, he plans to work in a law firm focusing on the business sector.
"Andrew exemplifies the leadership qualities, commitment to serving others and academic excellence that are essential to being a Bass Scholar," said retired U.S. Army Brig. Gen. Scott E. Brower, director of the Bass Military Scholars Program. "His wide-ranging experiences and expertise will serve him well as he embarks on the next chapter of his life, and we are pleased to support him and all Bass Scholars in achieving their goals."
The Bass Military Scholars Program provides $25,000 per year to an annual cohort of accomplished and talented veterans pursuing graduate and professional degrees at Vanderbilt University's Law School, School of Medicine, School of Nursing, Owen Graduate School of Management and Peabody College of education and human development. The students meet regularly throughout the academic year to collaborate on projects designed to foster military-civilian dialogue and connection within the Vanderbilt community.
"It's an honor to be acknowledged by Mr. Beasley and to carry on his legacy here at Vanderbilt. We served in many of the same locations around the world, and being in the same law school where Mr. Beasley was a student and professor makes the honor mean that much more," Hodlin said. "In Nashville, you couldn't start a legal career with a better affiliation than with one to Mr. Beasley, and I'm grateful for the opportunities it will provide for me and my family."
Vanderbilt is home to several programs and partnerships to support military service members and veterans within the university community and beyond. Learn more at www.vanderbilt.edu/military.