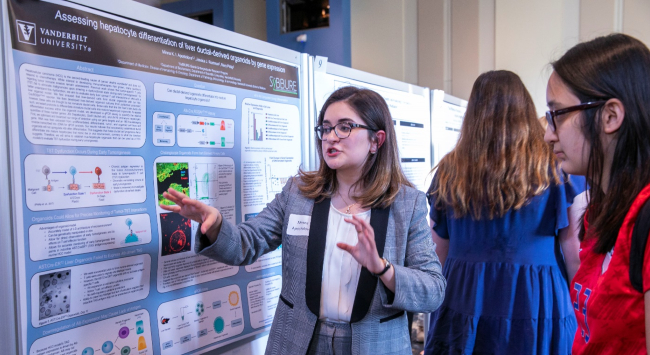 The annual fall Vanderbilt Undergraduate Research Fair was held Sept. 30 and included virtual presentations via Zoom as well as in-person presentations at the Student Life Center. The event gave 185 undergraduate students the opportunity to share their research via poster and slide presentations, with more than 225 faculty, students, staff, family and community members in attendance. 
Students who chose to complete their Immersion Vanderbilt project by presenting at the fair were acknowledged with the Immersion Vanderbilt logo next to their names in the program. While a public presentation is not necessary to complete all Immersion Vanderbilt plans, the Vanderbilt Undergraduate Research Fair provides an ideal venue for students to explain their work and describe how it grew from their own questions and interests. 
In addition to the student presentations, several breakout sessions, led by faculty, staff and students, shared information about how students can get involved in research opportunities in a variety of disciplines. Topics included how to discover personal paths through research and finding opportunities in research. 
Students who want to learn more about undergraduate research at Vanderbilt are encouraged to attend the upcoming SIM Match Day on Oct. 18 and the VUSRP Info Session on Oct. 26. More information about both events can be found on the Immersion portal. Research is one of the four Immersion Vanderbilt pathways and presents many opportunities for undergraduates to investigate and explore areas of interest and create meaningful, immersive experiences for themselves.