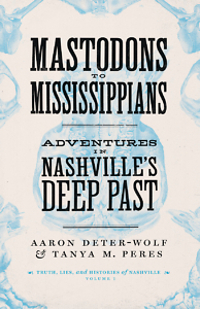 Aaron Deter-Wolf, co-author of Mastodons to Mississippians: Adventures in Nashville's Deep Past, will be in conversation with Tennessee State Archaeologist Phil Hodge on Tuesday, Oct. 19, from 4 to 5:30 p.m.
Members of the Vanderbilt community can attend the talk in person in Buttrick Hall, Room 123. Members of the general public and VU community members unable to attend in person may view the event virtually.
Mastodons to Mississippians, published by Vanderbilt University Press, recounts how Middle Tennessee well diggers in 1845 unearthed the skeleton of an American mastodon. Before it went on display, it was modified and augmented with wooden "bones" to make it look more like a human being and passed off as an antediluvian giant.
This fake history of a race of pre-Nashville giants isn't the only bad history of what—and who—was here before Nashville. The book, which covers pre-historic times, early Indigenous culture and archaeology, is the first public-facing effort by legitimate archaeologists to articulate the history of what happened in Middle Tennessee before Nashville.