The contentious policy and political battles that led to legalizing same-sex marriage in the United States were highlighted in an in-person and virtual talk by journalist and author Sasha Issenberg at Sarratt Cinema on Oct. 11, marking the 33rd anniversary of National Coming Out Day.  
Issenberg is the author of The Engagement: America's Quarter-Century Struggle Over Same-Sex Marriage.  
Provost and Vice Chancellor for Academic Affairs Cybele Raver and Christopher "Kitt" Carpenter, E. Bronson Ingram Chair in Economics and director of the Program in Public Policy Studies and the Vanderbilt LGBT Policy Lab, welcomed the audience to this significant event as part of Vanderbilt's LGBTQI History Month.   
"Through the lens of today's discussion on marriage equality, moments like this mark the meteoric progress we have made in strengthening human rights and equality in this country. Yet, they also remind us that we face persistent political challenges to these rights," Raver said. "We must seek new ways to make everyone not only feel heard and embraced but also economically secure and legally protected. Only when those legal protections are in place can we most effectively engage in powerful dialogue, discovery, societal advancement."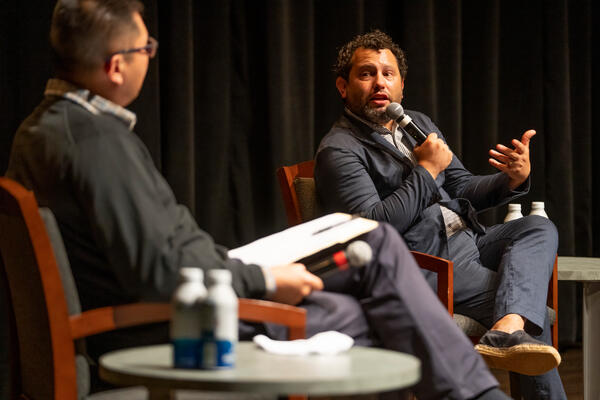 Alongside Carpenter, William R. Kenan, Jr. Chair and Professor of Political Science John Sides, moderated a panel discussion with Issenberg on the complexities of marriage equality crystalizing in the United States. Issenberg noted how disheartening it was not to have a comprehensive work covering these pivotal moments.  
"I was surprised when I wanted to go read a history that explained to me how this issue came to, in certain ways, take over our politics over the past few decades that nobody had tried to piece together the whole story," Issenberg said. "So, it was about 10 years ago that I decided I was going to make that my goal." 
Issenberg addressed the numerous factors at play that paved the way for the movement today. He also discussed how his book follows the various intersections of legislation, courts and voting regarding marriage equality.  
"Three themes that weave throughout the story are legal and legislative perspectives and how voters are usually forced to respond to things that courts have done," Issenberg said. "Courts are the venues where people are challenging laws that are set by legislatures and voters, and so I wanted to tell both those stories in an intertwined way." 
The hybrid event was hosted by the Center for Study of Democratic Institutions and the Vanderbilt LGBT Policy Lab, in partnership with the Office for Equity, Diversity and Inclusion and LAVA, the LGBTQIA+ Association of Vanderbilt Alumni. 
Watch the full event recording here.