Media Inquiries
Latest Stories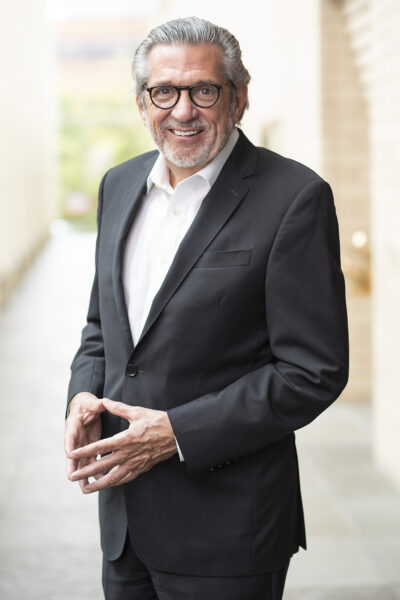 The Martha Rivers Ingram Dean's Chair, endowed in 2005 to support the position of the dean at the Blair School of Music, has been renamed the Mark Wait Dean's Chair to honor the former dean and professor of music, who was at Blair from 1993 to 2020.
Ingram, a longtime Vanderbilt supporter and former chairman of the Board of Trust, suggested and endorsed the renaming of the chair.
"Mark was an extraordinary visionary for the Blair School," Ingram said. "He raised the standards to heights matching those of the country's top music schools and nurtured the special position Blair occupies on our campus, in our city and far beyond."
Wait, a Grammy-nominated concert pianist, retired June 30, 2020. During his 27-year tenure at Blair, the school grew from 19 full-time faculty teaching and performing in a 31,000-square-foot building to 54 full-time and 85 adjunct and part-time faculty working in a state-of-the-art 136,000-square-foot facility that includes the Martha Rivers Ingram Center for the Performing Arts, the Steve and Judy Turner Recital Hall and the Cyrus Daniel Choral Hall.
Wait also reimagined Blair's curriculum to capitalize on the school's attachment to a globally renowned research university located within the city of Nashville, itself a thriving hub of the music industry. With only four classes that had graduated from Blair prior to his arrival, Wait largely shaped Vanderbilt's undergraduate music education to what it has become today. He also vastly expanded Blair Academy's precollege and adult programs while creating a welcome place for non-music majors at Vanderbilt to study music theory, music history and performance.
Outside of Vanderbilt, Wait led the National Association of Schools of Music as president (2012–15) and was a board member of the Country Music Hall of Fame and Museum (2001–05) and the Nashville Symphony Orchestra, where he chaired the search committee that brought Maestro Giancarlo Guerrero, the NSO's current music director, to Nashville. Wait also played a key role in establishing Vanderbilt's partnership with the National Museum of African American Music, which opened in January in downtown Nashville.
"Mark has shown determined leadership and unmatched charisma in building one of the country's finest schools of music," said Lorenzo F. Candelaria, the current holder of the Mark Wait Dean's Chair. "It is my distinct honor to build on Mark's incredible legacy as we chart our journey into the future."
"I am deeply honored by this designation, which joins the greatest privileges of my career: serving with the superb faculty and staff of the Blair School and holding the Martha Rivers Ingram Dean's Chair," Wait said. "And now I have the great pleasure of seeing the Blair School thrive and create a bright future under Dean Candelaria's leadership."