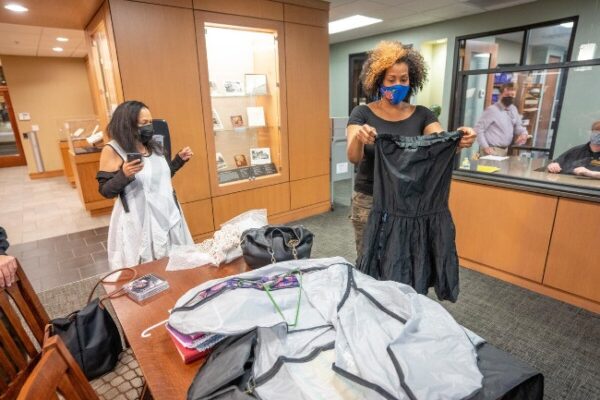 by Ann Marie Deer Owens
The Jean and Alexander Heard Libraries at Vanderbilt have acquired the papers of Rissi Palmer, an influential singer-songwriter and Apple Music Country host who is breaking barriers for country music artists of color.
The library's latest music-related acquisition is helping Vanderbilt build a world-class archive of African American music in partnership with the National Museum of African American Music. (Learn more about the Vanderbilt/NMAAM partnership.)
"Rissi Palmer is an extraordinary 21st-century example of an arts activist and cultural curator rooted in a Black rural Southern experience," said Alice Randall, writer-in-residence in the Department of African American and Diaspora Studies. "She is dedicated to amplifying the voices of Black, Brown and Indigenous country music performers. She is also a role model for emerging artists of color, as in 2007 she was the first African American female artist to land on the country charts in 20 years. It's important for our students to learn the hidden stories of Nashville's African American musical heritage."
Randall has taught about Palmer in her undergraduate seminar, African American Presence and Influence in Country Music. However, she had not met Palmer until the singer-songwriter and broadcaster brought her papers to the library's Special Collections on Sept. 24. Palmer's collection includes six songwriting notebooks that span 19 years of her career. The notebooks contain song lyrics, music and planning for her 2007 album, Rissi Palmer. Also found within these personal papers are the music and lyrics Palmer wrote from 2009 to 2019.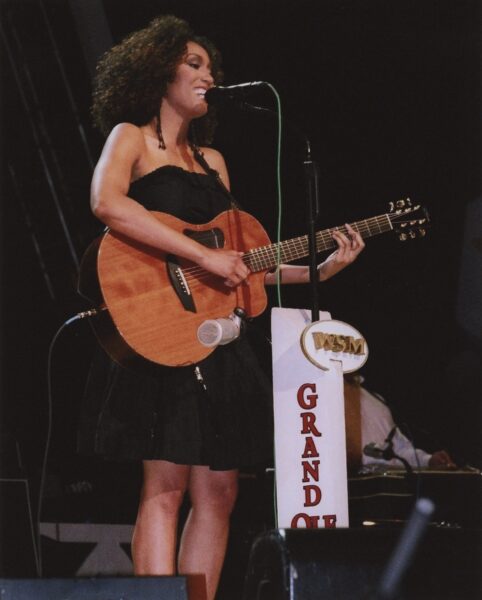 Palmer, who grew up in Pennsylvania and Missouri, moved to Nashville in 2000 to start her musical career like many others have done—playing writers' rounds at the Bluebird Cafe and singing at Tootsie's. She fulfilled a lifelong dream of making her debut at the Grand Ole Opry in 2007. Included in the collection is the treasured dress she wore for that celebratory occasion. Palmer's collection also has two dresses she wore in music videos for "Country Girl" and "No Air," along with accompanying photos of her performing in those outfits.
Palmer moved to North Carolina in 2010 after a dispute with her record label and other challenges with her career in Nashville. She has continued to sing, teach and record as an independent artist, and she self-released the album Revival in 2019.
Palmer launched her own streaming radio program, Color Me Country with Rissi Palmer, on Apple Music Country in 2020. She is passionate about interviewing and featuring the stories of diverse country artists, as she continues to advocate for those who have been marginalized in mainstream country music. Palmer is also excited to share her papers and memorabilia with Vanderbilt and NMAAM.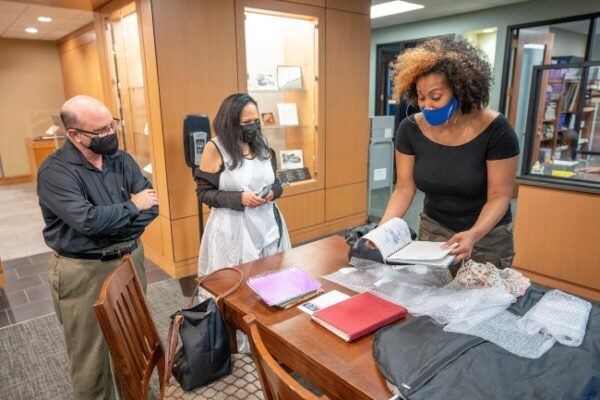 "I learned how to hone my craft and advance my career in Nashville," Palmer said. "I was just like every other person who comes to town with a guitar and a book of songs, and I hope that I can provide inspiration and insight for scholars and the next generation of artists of color. It's important to give back."
"The Palmer collection contains rich materials for faculty and students studying country music and diversity, and we are thrilled to have these items in Special Collections," said Jason Schultz, librarian for African American and diaspora studies, history and Islamic studies.
One of Randall's students, Peter "Mac" Hunt, of Chattanooga, Tennessee, already plans to conduct research with the Palmer collection in the coming months for his senior honors thesis. Hunt has already done groundbreaking work on race and memorials in his hometown, and Randall said she looks forward to seeing the impact of the Palmer collection on his research.