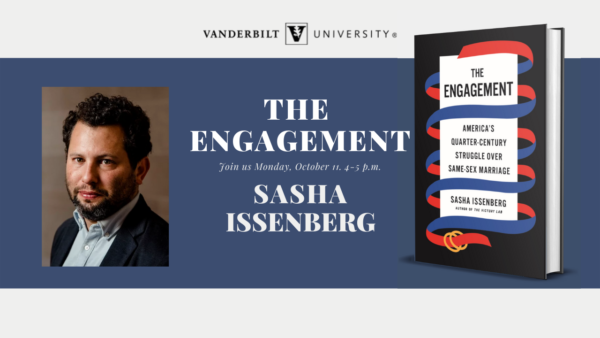 Journalist and author Sasha Issenberg will speak at Vanderbilt for a special on-campus event discussing the policy and political battles that led to legalizing same-sex marriage in the United States. Issenberg is the author of The Engagement: America's Quarter-Century Struggle Over Same-Sex Marriage.
"One of the cases that brought the question of same-sex unions to the U.S. Supreme Court six years ago originated in Middle Tennessee, so I am especially excited to be coming to Vanderbilt to talk about the long history that led to that landmark case when the justices ruled marriage equality to be the law of the land," Issenberg said.
The event will be Monday, Oct. 11, at 4 p.m. in Sarratt Cinema. Registration is required, and attendees have the option of attending the event in person or viewing it virtually. In-person seating is first-come, first-seated. A virtual event link will be available closer to the event date after registration.
Register for the Oct. 11 event. 
Issenberg is the author of multiple books on diverse issues such as the science of political campaigns, the international sushi economy and the business of medical tourism. He is a national political reporter with work published in The Boston Globe, Slate, The New York Times Magazine, Businessweek and more. He also teaches political science at UCLA.
Issenberg's visit coincides with National Coming Out Day on Oct. 11 and LGBTQ+ History Month.
The hybrid event is hosted by the Center for Study of Democratic Institutions and the Vanderbilt LGBT Policy Lab, in partnership with the Office for Equity, Diversity and Inclusion and LAVA, the LGBTQIA+ Association of Vanderbilt Alumni.
"Members of the Vanderbilt LGBT Policy Lab contributed to the evidence and knowledge base that informed some of the most persuasive reasoning that led to the 2015 Supreme Court ruling," said Christopher "Kitt" Carpenter, E. Bronson Ingram Chair and professor of economics, director of the program in public policy studies and director of the Vanderbilt LGBT Policy Lab. "It will be a privilege to hear Sasha speak in person about his latest book on the path to marriage equality."