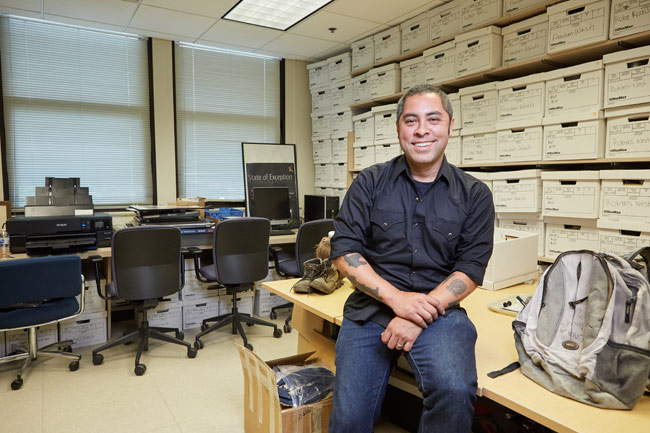 Jason De León, creator of the Hostile Terrain 94 exhibit and founder of the Undocumented Migration Project, will give a free lecture on Wednesday, Sept. 29, at 6 p.m. in Sarratt Cinema. A public reception will precede his talk beginning at 5:15 p.m. in Sarratt Gallery. All are welcome to attend, and masks will be required.
Hostile Terrain 94, currently open in Sarratt Gallery through Oct. 1, is a participatory art installation sponsored and organized by the Undocumented Migration Project, a nonprofit research, art, education and media collective.
Visitors to the exhibit have filled out 3,200 toe tags over the past three weeks representing migrants who died attempting to cross Arizona's Sonoran Desert from the mid-1990s to 2019. These tags are then geolocated on a wall map of the desert showing the exact locations where human remains were found. (A list of Vanderbilt and community groups that have participated in the exhibit can be found below.)
The exhibit is named for the failed 1994 immigration enforcement strategy known as "Prevention Through Deterrence." This policy from the U.S. Border Patrol (now U.S. Customs and Border Protection) was designed to force individuals to travel through more remote regions where the natural environment would act as a deterrent to movement. It was anticipated that the difficulties people would encounter in what the U.S. Border Patrol deemed "hostile terrain" would ultimately discourage migrants from attempting the journey.
According to the Hostile Terrain 94 website, more than 6 million people have attempted to migrate through the Sonoran Desert in Southern Arizona since 2000. At least 3,200 of them have died, largely from dehydration and hyperthermia. In recent years, this policy has shifted people toward Texas, where Prevention Through Deterrence is still the primary border enforcement strategy.
More than 100 academic institutions around the world will host their own versions of Hostile Terrain 94 throughout 2021 and 2022. Vanderbilt's Department of Anthropology is one of a few chosen by De León, an anthropology professor at UCLA and a MacArthur Grant recipient, for an in-person lecture and Q&A. De León has collaborated with Vanderbilt anthropology faculty and postdoctoral scholars on research and service projects in the past, and his previous art exhibits have been featured nationally.
Vanderbilt's Hostile Terrain 94 exhibit and related activities are sponsored by the Center for Latin American, Caribbean and Latinx Studies, Department of Anthropology, Sarratt Gallery, Citizenship Grand Challenge Initiative and Kefi Collective.
For more information, visit the CLACX website.
Hostile Terrain 94 at Vanderbilt participants
A number of Vanderbilt classes and groups, as well as community groups, have participated in the interactive exhibit. These include the following:
Vanderbilt University classes
CMST 3800: Communication and Media Studio
MHS 6500: Interdisciplinary Writing
THTR 2651: Play Direction
PSCI 2252: Politics of Migration Across the Americas
ARTS 1800: Sources of Contemporary Art
LATS 2201: Introduction to Latin American Studies
LATS 4961/5961: Latinx Studies Seminar: Latinx Literature and Culture
ANTH 1101: Introduction to Cultural Anthropology
SPAN 4355: Spanish in Society
PORT 2203: Intermediate Portuguese
HIST 1384: Gender, Law and Slave Emancipation in Latin America
ANTH: Human Osteology
HIST 1379W: The Inquisition in the New World: Law, Deviance and Heresy in Colonial Mexico
Vanderbilt University groups
Vanderbilt Ingram Scholar's small group
Latin American and Caribbean Student Association
Freshmen Commons group
Student Center for Social Justice and Identity staff
Vanderbilt Association of Student Anthropologists
International Lens attendees of Immigration Nation: Prevention Through Deterrence (Sept. 23 screening)
Office of Federal Relations in Washington D.C. staff (remote participation)
Nashville community groups
Tennessee Justice for Our Neighbors
Nashville Mayor's Office
Meharry Latino Medical Student Association
East Nashville Running Group
HIP Donelson Nonprofit
Metro Nashville Public Schools' English Learners Fellows and Students of Interrupted Formal Education program (K12 teachers in these programs were the participants)
Visitors to Vanderbilt University are welcome. The university's current COVID-19 policy requires that all visitors from off campus (regardless of vaccination status) wear a mask indoors and outside.