Vanderbilt University was founded almost 150 years ago. And when you're that old, you're going to have some special traditions! As the university has evolved and grown with each class, many favorite traditions have sprung up that celebrate the community and diversity that make Vanderbilt special.
MOVE-IN
Move-In Weekend at The Martha Rivers Ingram Commons is one of the university's most popular traditions. The newest class is welcomed with cheers and applause. But what makes Move-In truly special is that returning students literally unload and carry everything up to the new students' rooms!
FOUNDERS WALK
The culmination of Move-In Weekend is Founders Walk. This is when first-year, transfer and Next Steps students get decked out in shirts and banners representing their houses and parade from The Ingram Commons to Alumni Lawn. They are formally welcomed by the chancellor, other campus leaders and cheering students from organizations and campus affinity groups.
COMMENCEMENT
The Founders Walk tradition comes full circle at Commencement with the tradition of graduates walking out the same gates of Vanderbilt that they entered during Founders Walk to ceremonially exit the institution.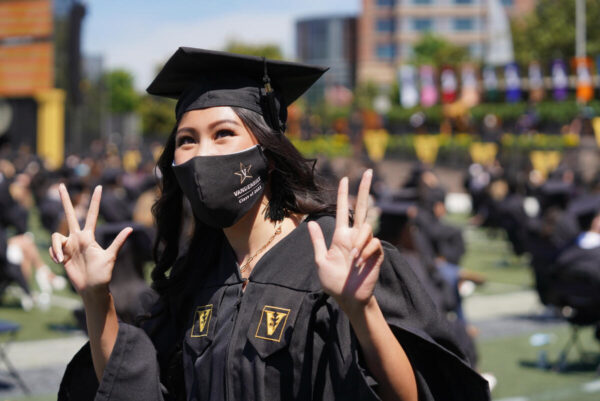 STRAWBERRIES AND CHAMPAGNE
Once all the names have been called and all the degrees have been conferred at Commencement, it's time to celebrate! Every year, Vanderbilt provides strawberries and champagne for all the graduates and their families to toast their accomplishments while at Vanderbilt.
VU HAND SIGN
The "VU" hand sign is something that can be seen from people in every part of the Vanderbilt community. Introduced by Commodore cheerleaders in 2003, the popular "VU" hand sign is formed with the thumb, index finger and middle finger of your right hand, palm out. The index finger and middle finger form the "V," and the "U" is formed by the thumb.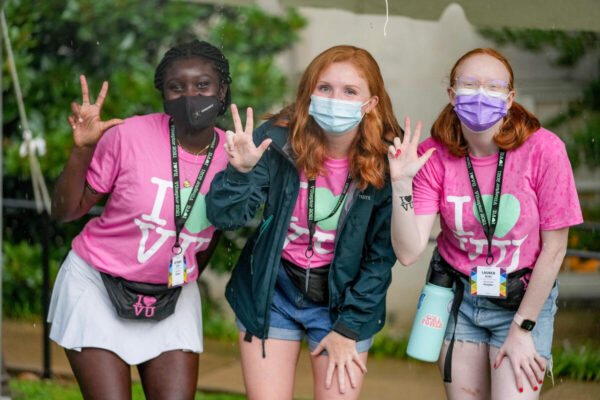 ANCHOR DOWN!
The Vanderbilt Anchor was adopted in 2004 as a symbol of unity and strength and accompanies the Commodores football team to all home and away games. The anchor is carried in the Star Walk procession to the stadium. Before each home game, a group or individual is selected to "drop the anchor" at midfield to mark the beginning of the evening's events.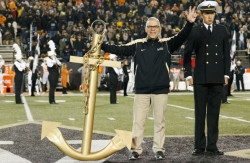 CULTURAL DANCE SHOWCASES
Vanderbilt celebrates the campus's rich diversity of identity, background, thought and experience in many ways. One of the most fun and entertaining ways is through the cultural dance showcases, which are open for anyone to join with no dance experience required.
There are four annual performances: Diwali, the South Asian Festival of Lights, which is held by the South Asian Cultural Exchange (SACE); Harambee, African Student Union's cultural showcase; Lunar New Year Festival, which is held by the Asian American Student Association; and Vanderbilt Association of Hispanic Students' Café con Leche.
RITES OF SPRING
Vanderbilt couldn't truly be part of Music City without an awesome musical tradition. Since 1971, Vanderbilt students have organized and hosted the music festival Rites of Spring on Alumni Lawn.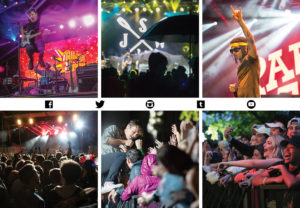 MY FAVORITE THINGS
Vanderbilt alum Chris Mann, BMus'04, who is becoming as well known for the parodies he started creating during quarantine as he is for his incredible voice, included some well-loved Vanderbilt traditions in his Vanderbilt parody "My Favorite Things."