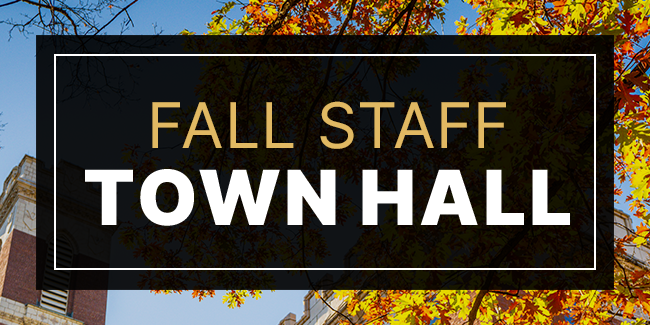 Please note: The town hall for staff, originally scheduled for Sept. 16, has been rescheduled for Tuesday, Sept. 21, to avoid a conflict on the original date. We apologize for any confusion and look forward to welcoming you at Tuesday's town hall.
Vanderbilt University will host a virtual town hall on Tuesday, Sept. 21, at noon CT for staff to hear directly from campus leadership about the university's 2021 fall semester operations.
Registration is required for the event, which will include a moderated question-and-answer session. Registrants may submit their questions in advance.
Register for the Sept. 21 town hall for staff. >>
During the virtual event, campus leaders will discuss important details regarding the fall 2021 semester, including COVID-19 protocols, testing and contact tracing, and staff support.
Panelists and speakers for the town hall include:
Eric Kopstain, vice chancellor for administration
Pam Jones, senior associate dean for clinical and community partnerships in the School of Nursing and co-commander of the university's Public Health Central Command Center
Cleo Rucker, chief human resources officer
Kathleen Seabolt, executive director, Vanderbilt Child and Family Center
Tiffany Lawrence Givens, president, University Staff Advisory Council
A recording of the town hall will be available afterward on the Health and Safety Protocols website.