With a background in piano performance and passion for information science, Holling Smith-Borne, director of the Anne Potter Wilson Music Library, is in a position to help students find music scores for their recitals and help faculty find rare artifacts that facilitate their research. He oversees the library collection, including more than 30,000 books and bound journals, more than 37,500 scores and more than 70,000 video and sound recordings.
"The resources we have at the Wilson Music Library are comprehensive and varied for the purposes of student performance and faculty teaching, like finding music scores and recordings," said Smith-Borne, who continues to play piano as a collaborative pianist at his church and for a community chorus, Nashville in Harmony. "But we also have unique collections that are indicative of the music history that is local to Nashville, like items belonging to folk and country bluegrass artists."
The music library was originally established in 1947 in the Social-Religious Building on the campus of George Peabody School for Teachers (now the Wyatt Center at the Peabody College of education and human development). In 1964, the Blair Academy of Music first opened as the pre-college division of the School of Music at Peabody College and became an independent institution in 1977. In 2001, the library was renovated, doubling its space. Now a formal division of the Jean and Alexander Heard Libraries system, the Anne Potter Wilson Music Library was named for one of Vanderbilt's major benefactors, the granddaughter of Myra Jackson Blair, after whom the Blair School of Music was named.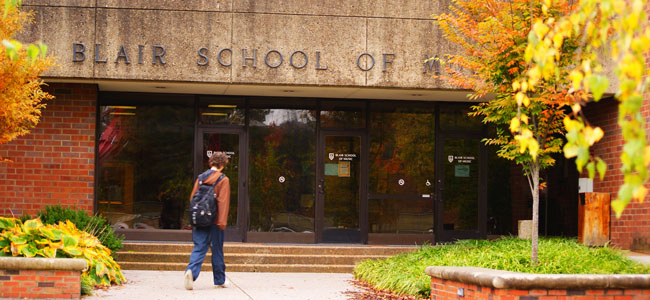 Special Collections: From Dizzy Gillespie to Dinah Shore
Most recently, the Heard Libraries acquired two special collections—jazz great Dizzy Gillespie's personal scrapbooks, signed albums and artifacts, as well as Vanderbilt alumna singer/actress Dinah Shore's fan club newsletters, publicity stills, photographs and original music recordings. These acquisitions complement Vanderbilt's existing collections in music and the performing arts, including those of local artists and researchers.
The Wilson Music Library includes a collection of American folk, country and bluegrass composer John Hartford's fiddle tune books, festival advertisements, concert programs, sheet music and 19th century instructional books. Hartford is best known for being a founder of both progressive country music and old-time string music revivalism.
As part of its partnership with the National Museum of African American Music, the library is participating in the Academic Archive Purchasing Fund program, which has allowed it to acquire rare artifacts and collections on behalf of the museum, such as two jackets that Janet Jackson wore in her Rhythm Nation tour.
Facilitating music study far and wide
As director of the music library, Smith-Borne also takes the lead in reviewing inventory annually in collaboration with Blair faculty. They select a particular section of music to curate and assess research resources. Last year, Smith-Borne and his staff analyzed their collections on music by African American composers. Information gained from this analysis will inform purchasing decisions over the next several years.
If faculty need materials that the library does not have, depending on how frequently the material will be used, Smith-Borne and his staff may special order the material. For example, the library often orders music scores and librettos for new operas that Joy H. Calico, Cornelius Vanderbilt Professor of Musicology and professor of German, has attended during her travels to Europe. Calico uses the music scores and librettos for teaching and research.
Now that screens and tablets are commonplace, the library has a license with Classical Scores Library, an online database of Western music scores featuring works from the Middle Ages through the 21st century. This license was especially helpful during the COVID-19 pandemic when remote teaching and learning were required for safety reasons. The Classical Scores Library features editions from a variety of publishers, including Universal, Faber, Boosey & Hawkes, Peters and A-R.
The library's website also includes a Performer Guides page that features library materials organized by instrument family and voice. The guide is unique in its ability to search by repertoire, recommended books, journals, exercises, etudes and excerpts.
"From personal experience, I know that studying music at the college level is quite the endeavor. I want to make the process as enjoyable as possible for students and faculty alike. And I feel fortunate to participate in special opportunities, like the partnership with the NMAAM, to be able to bring to life the study of music," Smith-Borne said.