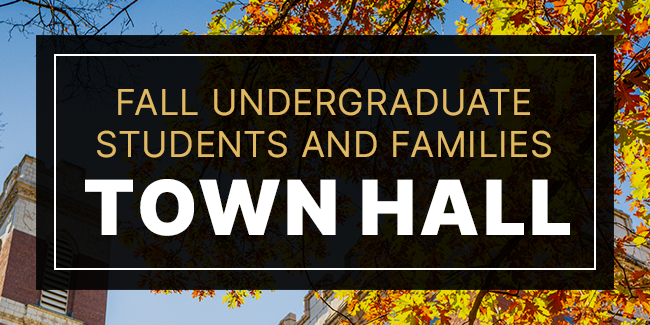 Vanderbilt University campus leaders will host a virtual town hall on Monday, Sept. 13, beginning at 6 p.m. CT for all undergraduate students and their families about the university's 2021 fall semester operations. The event will address COVID-19 protocols, testing and contact tracing, housing and dining facilities, academic support, and resources for mental health and wellness.
There will be a moderated question-and-answer session at the end of the town hall. Registrants can submit questions when registering here.
Speakers and Q&A panelists for the town hall include:
Cybele Raver, provost and vice chancellor for academic affairs
Pam Jones, senior associate dean of clinical and community partnerships and co-leader of Vanderbilt University's Public Health Central Command Center
Anita Wager, associate dean for undergraduate academic affairs, Peabody college
G.L. Black, vice provost and dean of students
David Ter Kuile, executive director of business services
Lisa Clapper, student care manager and director
The town hall will be moderated by Traci R. Ray, assistant dean of students.
<< Register for the town hall here. >>
The town hall will be recorded and made available on the Health and Safety Protocols website for later viewing.