With discussion raging about the refugee crisis created by the withdrawal of U.S. troops from Afghanistan, a humanitarian crisis continues closer to home—undocumented migrants at the U.S.-Mexico border. The Vanderbilt University Center for Latin American, Caribbean and Latinx Studies aims to bring attention to this issue by hosting Hostile Terrain 94, a participatory art installation sponsored and organized by the Undocumented Migration Project, a nonprofit research-art-education-media collective. Vanderbilt's Department of Anthropology, the Sarratt Gallery, the Citizenship Grand Challenge Group and the Kefi Collective are also helping host the event.
"As a National Resource Center designated by the U.S. Department of Education, we are delighted to be hosting such a thoughtful art installation that will teach the community, especially school-age children, about undocumented immigration as part of a larger conversation about the Latin American experience and its relationship with the U.S.," said Celso Castilho, director of CLACX and associate professor of history.
After more than a year of delays due to COVID-19, the installation at Vanderbilt will open with a public reception on Sept. 9 and will be available throughout September. Visitors will hand-write more than 3,200 toe tags that represent migrants who have died trying to cross the Sonoran Desert of Arizona between the mid-1990s and 2019. These tags are then geolocated on a wall map of the desert showing the exact locations where remains were found. The physical act of writing out the names and information for the dead invites participants to reflect, witness and stand in solidarity with those who have lost their lives in search of better ones. Teachers with Metro Nashville Public Schools are booking class visits to the exhibit, a sign of how it is enhancing classroom learning.
While more than 100 academic institutions around the world will host their own versions of the installation throughout 2021 and 2022, Vanderbilt's Department of Anthropology was one of a few chosen by project director and UCLA anthropology faculty Jason De León for a special lecture and Q&A, which will be on Sept. 29. The lecture is free and open to the public.
Professor De Leon is a MacArthur Grant ("Genius Grant") recipient and has collaborated with Vanderbilt Anthropology faculty and postdocs in research and service projects, showing the strong ties that can be forged between scholars who focus on Latin America. His previous art exhibits have been featured nationally.
"This programming dovetails perfectly with the professional development we've been offering teachers at Metro Nashville Public Schools, as they have seen an influx of students from Guatemala and Honduras over the last couple years," said Avery Dickins de Girón, executive director of CLACX and senior lecturer in Latin American studies. "They have a lot of interest in understanding what traumas their students may have experienced in their home country, that motivated their families to make that treacherous journey to a country where they often don't know anyone and don't speak the language."
Hostile Terrain 94 is named for the 1994 failed immigration enforcement strategy known as "Prevention Through Deterrence." This policy from the U.S. Border Patrol (now U.S. Customs and Border Protection) was designed to force individuals to travel through more remote regions where the natural environment would act as a deterrent to movement. It was anticipated that the difficulties people would encounter in what the U.S. Border Patrol deemed the "hostile terrain" of places such as the Sonoran Desert of Arizona would ultimately discourage migrants from attempting the journey.
According to the Hostile Terrain 94 website, more than 6 million people have attempted to migrate through the Sonoran Desert in southern Arizona since 2000. At least 3,200 of them have died, largely from dehydration and hyperthermia. In recent years, this policy has shifted people toward Texas, where Prevention Through Deterrence is still the primary border enforcement strategy.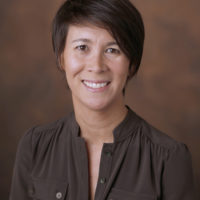 "Forensic anthropologists have long been trying to identify the victims of these policies," said Tiffiny Tung, professor and department chair of anthropology. "I hope that bringing this powerful exhibit here will help the Vanderbilt and greater Nashville community learn how to see the various political, economic and social factors that contribute to these deaths. These are difficult topics to discuss and investigate. But our students are thoughtful and resilient, and this art exhibit and the guest speakers will provide them opportunities to think more critically—and act compassionately—about the factors that contribute to those who have died at the border."