Text by Elizabeth Cook Jenkins, BS'99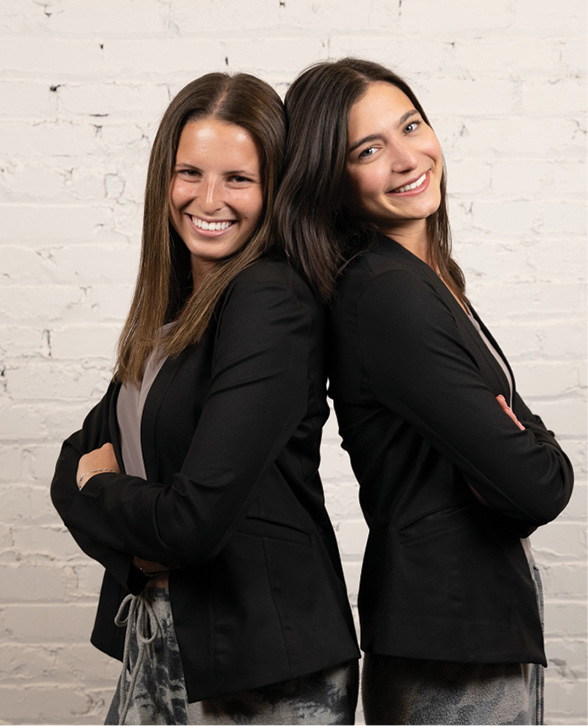 As first-year students, Zoe Antell and Jessica Kaplan often walked back to The Martha Rivers Ingram Commons together after attending meetings for Delta Sigma Pi, a business fraternity that they had both pledged. "We were constantly going to professional events, speeches, interviews and workshops," Kaplan recalls, "and would complain about needing to wear certain attire to those events."
Finding blazers, pants and blouses that fit well and were both fashionable and age-appropriate proved incredibly frustrating for both women. As a result, during one of their walks across campus in March 2019, Antell said to Kaplan, "Why don't we do something that makes women feel empowered in the business world?"
That thought translated into ready dress go, Kaplan and Antell's clothing company. At the start of their sophomore year, the duo began what is called customer discovery. "After we evaluated what we were both wearing, we interviewed 50 other women," explains Kaplan, a Chicago native majoring in human and organizational development. "We asked them things like, 'Where did you last shop? How much did you spend?' We learned what their pain points were."
Armed with insight into what their target demographic of 18- to 24-year-olds wanted—including pockets and machine-washable clothing—the pair set out to find a manufacturer who was based in the United States, open to small batch production and committed to ethical practices.
"It was really important to us that the people producing our clothes were getting the same ethical treatment that the women purchasing our clothes were getting," explains Antell, a native New Yorker studying French and business. Their criteria were met by Megan Prange, founder of Nashville-based Prange Apparel.
The recent launch of ready dress go's Work-From-Home set was made possible by a combination of grants and prize money. The women participated in pre-launch and post-launch programs at the Wond'ry, Vanderbilt's Innovation Center, receiving a $2,300 grant. In addition, they were awarded a $2,000 grant from the Owen Graduate School of Management, a $1,000 first place prize at the Vanderbilt Entrepreneurship Conference and an additional $2,000 in prizes from pitch competitions.
When the pandemic hit in the spring of 2020, the co-founders, like everyone, had to pivot. "One of our mentors was looking at our collection and said, 'Why are you producing pants right now? No one is wearing pants.'" As a result, the women prioritized their blazer and tank top, which sell for $150 and $70, respectively, and are waiting to introduce pants.
This summer, Antell and Kaplan completed internships in New York City before returning to Nashville for their senior year. They do not yet know if ready dress go will be something they continue to do full-time after graduation, but they intend to continue developing the business regardless of their career endeavors. "We have a good thing going," Kaplan reflects, "and we want to revolutionize how women dress in the workplace."
Antell and Kaplan offer these tips for dressing for business success:
1. FOCUS ON FUNCTIONALITY
Think about where you are going and what your needs are by asking yourself a few key questions, Kaplan suggests. "For example, 'Will I be sitting or standing? Is comfort important? Are pockets important? Will I need to hold a badge or mask?'" A pitch meeting or networking event might call for a more comfortable pair of shoes than a seated lunch. Similarly, if you are going somewhere else afterward, you might want to remove your blazer, in which case, the blouse you wear underneath matters too.
2. INVEST IN STAPLES
"You want the main pieces in your wardrobe to be high quality, because it shows," Antell says. One well-made blazer that will last for years is a better investment than several cheap ones. "You need a solid black blazer that you can wear different ways, as well as a great pair of pants. Those two items will not go out of style and will be the core of your professional wardrobe."
3. BANISH BORING
Don't be afraid to take risks with your work wardrobe. "Dressing professionally does not mean you have to look stuffy or frumpy," Kaplan says. "That is a common misconception." Antell and Kaplan encourage their clients to add color and accessories to their wardrobe. "Getting ready for your first interview or job should be empowering," Kaplan says. "You shouldn't wear anything too short or too bright, but you also don't have to opt for all black."
4. BE YOURSELF
"Don't ditch your personal style, try to look like someone else or stay inside a certain box when dressing professionally," Kaplan says. "You can still be yourself." Kaplan believes that styling is a huge part of the wardrobe equation. The jewelry, handbag, shoes and hairstyle you choose should reflect your own image, as opposed to the one you think you should project.
Ready dress go officially relaunched on September 6, with two new product offerings. You can shop the brand on their website, where you can also learn about their Boardroom and Blazer Fund initiatives.