Brianna Nesbitt has been named interim director of LGBTQI Life effective Sept. 1, 2021.  
Nesbitt, who also serves as the assistant director of the Margaret Cuninggim Women's Center, is a committed student advocate with an extensive background in higher education. Before joining the Women's Center staff in 2017, Nesbitt served as the graduate assistant for diversity education in the Office of Student Activities at the University of Central Missouri, where she obtained her M.S. in college student personnel administration. She is currently pursuing her Ed.D. at the University of Illinois Urbana-Champaign.   
During her time at Vanderbilt, Nesbitt has worked closely with student, faculty and staff populations by coordinating Work-Life workshops, advising student organizations and facilitating conferences and special events.  As a member of the LGBTQIA+ community and someone deeply committed to an intersectional approach to student support, she has also served as the Vanderbilt Ace/Aro Affinity Group facilitator in the Office of LGBTQI Life since 2018.   
"I am thrilled to assume this important role as we search for our next director of LGBTQI Life. I am excited to work more closely with our remarkable LGBTQIA+ community, which is close to my heart and with whom I have had numerous opportunities to engage in the past," Nesbitt said.  
Nesbitt's office will be in the K.C. Potter Center most days as a way to regularly interact with members of the community. The K.C. Potter Center has a long history on campus, and the university remains committed to maintaining the legacy and history of the center as a cultural and resource center for Vanderbilt's LGBTQIA+ community. Vanderbilt University is one of few universities to have a center with dedicated space to support its LGBTQIA+ community. Additionally, a student care coordinator from the Office of Student Care Coordination, Kristen VanDyke, will be available for drop-in consultations 2–4 p.m. on Wednesdays.  
The center's current interim director, Rob Sánchez Nelson, is taking on a new role as chief diversity officer of the San Francisco Ballet. Nelson, who joined the Vanderbilt community in 2016, assumed the role of interim director of LGBTQI Life in January 2021. During their tenure at Vanderbilt, Nelson has grown the student affinity group program, served as the primary liaison between Vanderbilt and the Nashville community and hosted approximately 400 trainings for students, faculty, staff and community members.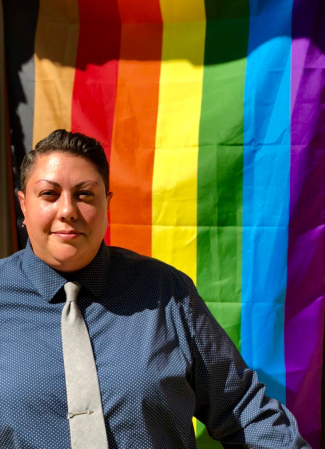 "I have loved being a part of supporting students as they discover who they are and grow into their authentic identities. I am also proud of the ways in which LGBTQI Life is becoming more of an education resource for not only the campus community, but also the Nashville community at large," Nelson said. "In the almost five years that I have served on campus, the K.C. Potter Center has deepened its immersion in Nashville and leveraged its knowledge and resources to support community growth. I leave LGBTQI Life incredibly proud of the work we have done. I feel honored to have worked on a team that centered community care and grew a center where LGBTQIA+ students, staff and faculty are celebrated and supported."  
The Office for Equity, Diversity and Inclusion and Human Resources recently relaunched the nationwide search for the new director of LGBTQI Life. The search had been halted while the university transitioned the Office for Inclusive Excellence and Identity Centers from the Office of the Provost to the Office for Equity, Diversity and Inclusion. Select members of the student, faculty, staff and alumni communities will be invited to meet with final candidates.  
"Pausing the search gave us time to assess current and future needs, as well as realign strategic priorities and ensure that the search was as equitable as possible," said Vice Chancellor for Equity, Diversity and Inclusion André Churchwell, to whom the office now reports. "We recognize that the Office for LGBTQI Life is invaluable to our mission and commitment to support a truly diverse community, and we want to be sure that we find the very best candidate to lead this vital campus resource."