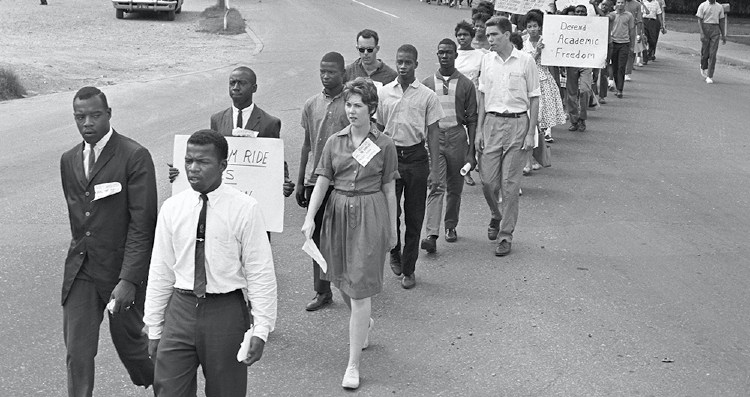 Vanderbilt University will join with many community partners to pay tribute to the life and Nashville legacy of U.S. Rep. John Lewis on July 16 and 17 with the formal dedication of Rep. John Lewis Way and a public celebration at Ryman Auditorium.
"We are honored to be part of Nashville's dedication of John Lewis Way, a commemoration of John Lewis' vital role in the Nashville sit-ins and the desegregation of Nashville," Chancellor Daniel Diermeier said. "The work Lewis led in our city inspired the desegregation of public places through the entire southeastern United States and continues to serve as a touchstone in our university's continued efforts to combat racial injustice and to foster an inclusive and welcoming community well beyond our campus."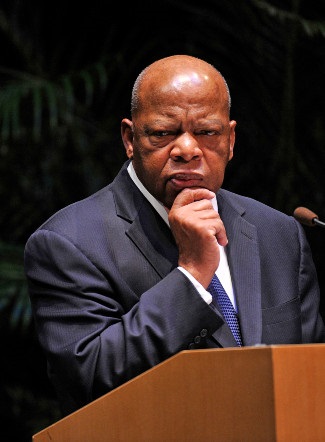 Lewis was among an extraordinary group of students mentored in nonviolent resistance by then-Vanderbilt Divinity student Rev. James Lawson, whom Diermeier will introduce before Lawson's keynote address at the Ryman celebration. Lawson was expelled from Vanderbilt in 1960 because of his role in the sit-ins; eventually, Vanderbilt and Lawson reconciled, and he is now one of the university's most distinguished and revered alumni.
The two-day celebration, tracing a path through Lewis' time in Nashville, will begin Friday with a 6 p.m. memorial service at First Baptist Church, Capitol Hill, where Lewis and many other sit-in participants were trained for civil disobedience more than 50 years ago. Among the speakers will be Michael Eric Dyson, Centennial Chair and University Distinguished Professor of African American and Diaspora Studies in the College of Arts and Science and University Distinguished Professor of Ethics and Society in the Divinity School.
The dedication of Rep. John Lewis Way will begin Saturday at 9 a.m. at the intersection of Jefferson Street and what was previously known as Fifth Avenue North in Germantown, with remarks from Nashville Mayor John Cooper and others. Then the celebration's planning committee, which includes Samar Ali, Research Professor of Political Science and Law and co-chair of the Vanderbilt Project on Unity and American Democracy, will lead a commemorative march through downtown. Earlier plans to unveil a public mural honoring Lewis during the march have been delayed. New details will be announced later.
"This mural will highlight a part of Nashville's history that should never be forgotten," said Midori Lockett, chief community impact officer for Government and Community Relations. "We need to be sure that young people and others learn about the legendary actions of Lewis and others who risked their lives for the movement.
Vanderbilt University, through the Community Impact Fund, is co-sponsoring the mural project, believed to be first in downtown Nashville to depict important African American figures in Nashville civil rights history. Alfred Degrafinreid II, associate vice chancellor for local government relations and community partnerships, serves on the Rep. John Lewis Mural Committee.
The John Lewis Way dedication walk will conclude at 11 a.m. at Ryman Auditorium. In addition to the keynote address by Lawson, remarks will also be delivered by Jon Meacham, Carolyn T. and Robert M. Rogers Professor of American Presidency, co-chair of the Vanderbilt Project on Unity and American Democracy and Pulitzer Prize–winning biographer. Meacham is the author of The New York Times bestseller His Truth Is Marching On: John Lewis and the Power of Hope, with an afterword by John Lewis.
All events for the Rep. John Lewis Way dedication are free and open to the public with the exception of the ticketed event at Ryman Auditorium, which is sold out. Watch the livestream at JohnLewisWay.org/livestream.
Other sponsors of the Rep. John Lewis Way dedication include the Vanderbilt Project on Unity and American Democracy and Millions of Conversations.