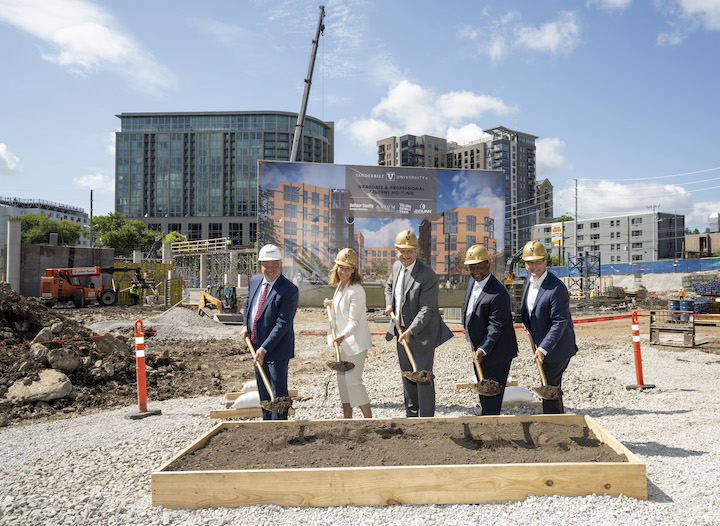 Vanderbilt faculty, staff and community partners gathered on July 16 for a ceremony to break ground on the university's new graduate and professional student housing project. The project was delayed by a year due to COVID-19 and construction began during the spring 2021 semester.
Chancellor Daniel Diermeier, Vice Provost for Graduate Education and Dean of the Graduate School André Christie-Mizell and Division President of Balfour Beatty Campus Solutions Robert Shepko spoke at the event held at the site of the new development between Lyle and 20th avenues. 
The 615-bed building will be home to a mixture of unit types, a public courtyard, a fitness center and a collaborative workspace open to all graduate and professional students. The ground floor of the building also will include retail space available to residents and the surrounding community.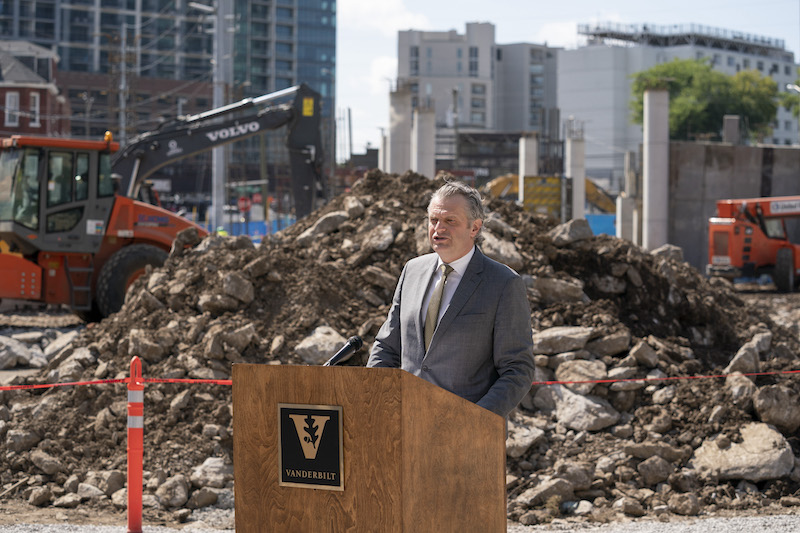 Diermeier spoke about the exciting opportunities that graduate and professional students will enjoy in their new neighborhood.  
"This facility will enable graduate students and their families to live in the heart of Nashville during the city's period of rapid economic growth—which supports our abiding mission to be a diverse and inclusive learning environment in which talented individuals from all financial backgrounds can thrive," Diermeier said. "It will allow our students to take full advantage of all that Nashville has to offer as a dynamic cultural center with a growing innovation economy—as well as to directly contribute to the mutually beneficial relationship we have with our home city."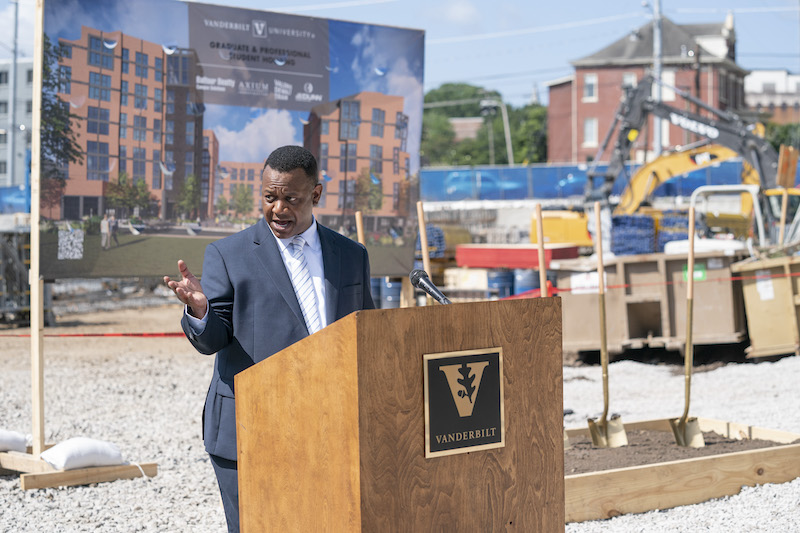 Christie-Mizell spoke about the steps Vanderbilt has taken to nurture a greater sense of community among graduate and professional students and how this new housing development will be an extension of that goal.   
"This housing development aims to elevate our thriving graduate and professional student community by offering them a place to continue their learning beyond the classroom," Christie-Mizell said. "Providing housing options for graduate and professional students adjacent to campus also enhances Vanderbilt's ability to recruit the best students to our rapidly growing city." 
Shepko added that this partnership with the university will be a benefit to not only Vanderbilt students, but to the entire Nashville community.  
"We are excited to be here and part of this build. This facility is going to weave beautifully with the surrounding neighborhood," Shepko said. "I do look forward to being here again to cut the ribbon on this facility." 
Construction on the housing development is expected to be completed in time for the 2023–24 academic year.