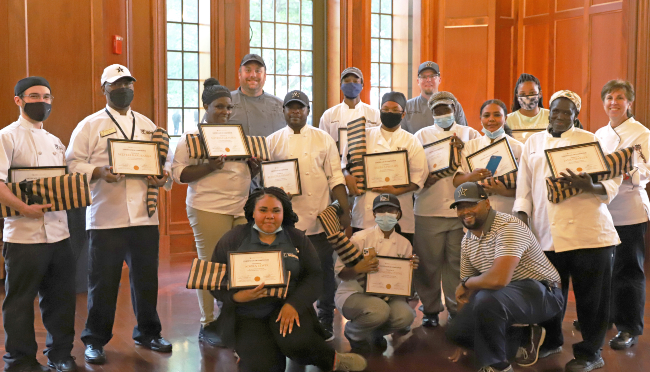 Vanderbilt Campus Dining launched a pilot program this summer with Nashville State Community College to offer a culinary skills training course for select university dining staff, part of Campus Dining's commitment to continuous improvement.
With most Vanderbilt dining halls closed until the fall semester, dining staff had the opportunity to hone their skills during the 20-hour hands-on enrichment program tailored specifically to Vanderbilt's needs. The course, held at the E. Bronson Ingram College Dining Hall, led participants through a variety of culinary modules, including knife skills, safety and sanitation best practices and proper cooking techniques for different cuisines.
"Vanderbilt's top-10 rank on the Princeton Review's Best Campus Food list is a total team effort and starts with our dedicated frontline staff," said Campus Dining Executive Chef Jordan Rogers. "This focus on a well-trained culinary staff shows in the variety and quality of the cuisine we offer our students, and we're proud to keep raising the bar."
In addition to gaining culinary skills through the course, participants also sharpened their knowledge beyond the kitchen, learning about sustainable purchasing and production practices that support Vanderbilt University's overall sustainability and zero waste initiatives.
"We want to be the employer of choice in Middle Tennessee, and people-first investments like this training course show how serious we are about that initiative," said Jennifer Garcia, manager of employee relations for Campus Dining.
Vanderbilt's partnership with Nashville State is part of a multifaceted approach that Campus Dining is taking to close the gap on hiring and retaining a skilled workforce in Nashville's competitive hospitality industry. For more information, visit the Campus Dining website.