Chancellor Daniel Diermeier honored outstanding staff at the Spring Staff Assembly on May 20, recognizing the 2021 recipients of the Commodore Award, the Diversity Leadership Award and three new awards to be presented annually.
"These staff members are examples of the entire professional community here at Vanderbilt—remarkably talented, collaborative, dedicated to excellence and to our mission. Simply the best," Diermeier said.
During the assembly, Diermeier presented the Commodore Award and three new awards: the Early Impact Award, the Mentorship Excellence Award and the One Vanderbilt Award. Vice Chancellor for Equity, Diversity and Inclusion and Chief Diversity Officer André L. Churchwell presented the annual Diversity Leadership Award.
Early Impact Award
The new Early Impact Award recognizes staff members who have worked at Vanderbilt for a minimum of one year and less than five years and who have exhibited excellent performance that shows promise of future growth. The winners receive a prize of $2,500 and an engraved award. Vanderbilt honored two individuals with this award:
Bill Burgess

Bill Burgess, assistive technology specialist, Student Access
Burgess uses multiple technologies to provide access and assistance to students with disabilities. When Vanderbilt switched to remote learning in March 2020, he was integral to facilitating the transition for deaf and hard of hearing students and others whose learning was affected. During the spring 2021 semester, Burgess coordinated a pilot program that increases communication access for the deaf and hard of hearing outside the classroom, such as during mealtimes, group meetings and club events.

William G. Hansen

William G. Hansen, administrative assistant III, Health Sciences Education
Since joining Vanderbilt in 2019, Hansen's professionalism, kindness and good humor have benefited the students, faculty and staff he supports in the Office of Medical Student Affairs. As a career Army veteran, he brings an exceptional personal work ethic and embodies the spirit of teamwork. At the onset of COVID-19, Hansen provided exceptional on-site service in the office, supporting behind-the-scenes efforts and acting as a front-line employee.
Mentorship Excellence Award
The new Mentorship Excellence Award goes to a full-time staff member who serves as a role model by inspiring colleagues and promoting professional development. The winner receives a prize of $2,500 and an engraved award.
Ally Sullivan

Ally Sullivan, executive director of Business Operations, Facilities
Ally Sullivan provides thoughtful leadership while demanding excellent productivity from her team. In addition to inspiring them to high levels of service by her own expectation and example, she encourages her team to pursue broad educational and professional development opportunities. She understands the unique skills offered by all team members and helps them develop their ideas and goals.
One Vanderbilt Excellence Award
The new One Vanderbilt Excellence Award recognizes staff teams, departments and/or groups that have demonstrated collaborative excellence on behalf of the university community. Selected team members each receive $1,000 and an engraved award. Two teams were selected to receive the One Vanderbilt Award.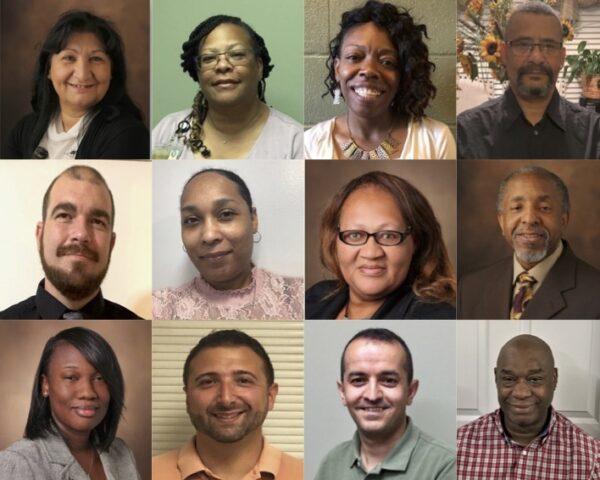 Housekeeping Services/Plant Operations:
Marina Bazdarevic
Helga Eubanks
Ericka M. Foster
Ricky Hughes
Aaron Longhurst
Lattica L. Mitchell
Beatrice R. Nolan
Chris Reddon 
Katesha S. Roland
Leo Sguera 
Mamand I. Taabur    
Hobert E. Woods
Since the first days of the pandemic, the Housekeeping Services supervisors within Plant Operations have gone to great lengths to protect the Vanderbilt community. They worked across campus to implement new cleaning procedures and health and safety measures. In addition, they performed work beyond their standard duties—including helping to pack up students' belongings in March 2020 and cleaning rooms reserved for students in quarantine. At every turn, the Housekeeping Services team exemplified teamwork and compassion.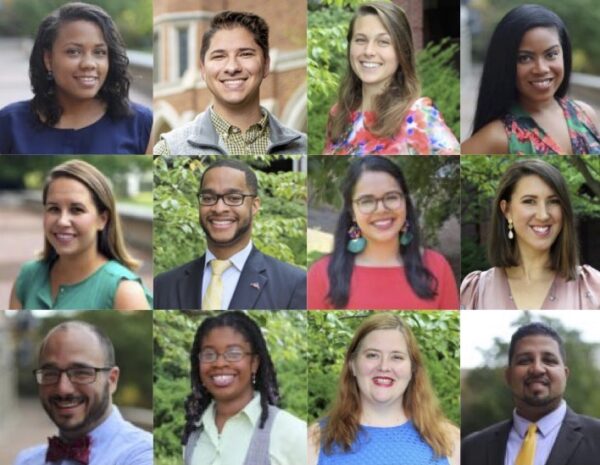 Residential Experience:
Courtney Berry
Daniel Coradazzi
Evyn Cosgrove
Nadine De La Rosa
Olivia Farley
Michael Jones
Leslie Lemus
Lauren Moon
R.C. Stabile
Lauren Tillman          
Kerrie Turney
Jorge Wellmann
The Residential Experience team in the Office of Housing and Residential Experience (OHARE) serves as primary responders for on-campus student issues. The pandemic substantially increased their workload, and it also led to new challenges: from collecting leftover student belongings to expanding collaborations with campus partners and providing support for students' mental health. This team represents the institutional commitment to residential learning, and their collaborative efforts enabled Vanderbilt's ability to support and empower students during a pandemic.
Diversity Leadership Award
Dr. André L. Churchwell, vice chancellor for equity, diversity and inclusion and chief diversity officer, presented two staff members the Diversity Leadership Award. This award recognizes staff members who have exhibited an outstanding commitment to equity, diversity and inclusion and have demonstrated exemplary contributions to developing a culturally diverse and welcoming university community. This year's two recipients received $2,500 and an engraved Galileo Award.
Midori Lockett

Midori Lockett, chief impact officer for Government and Community Relations
Midori Lockett is responsible for leading the Community Impact Fund program, which provides grant funding to more than 80 nonprofit organizations annually. Through relationship building and collective action efforts, she has substantially enhanced the university's community engagement with organizations serving diverse identity groups and in under-resourced areas in Nashville. Since she assumed this role in 2015, the allocation of the fund's budget directed to diverse organizations has risen from 9 percent to 25 percent. At Vanderbilt and beyond, Lockett is committed to deepening engagement with diverse communities.

Antonio Robinson

Antonio Robinson, project manager, Information Technology
Antonio Robinson's leadership and service spans several campus groups, including the University Diversity Council and the Association of Vanderbilt Black Faculty and Staff. He also serves as a board member of VUIT's Diversity Advisory Board—known as iDAB—where he chairs the Attract Diversity committee. As one of his nominators noted, Robinson came to Vanderbilt not only to excel in his project manager role, but to contribute his passion, organization and leadership talents to advancing equity, diversity and inclusion at large.
Commodore Award
Chancellor Diermeier concluded the assembly by presenting Vanderbilt's flagship award of overall excellence—the Commodore Award. This honor is given to staff members who have made significant contributions to Vanderbilt's pursuit of excellence in education, research and community service. Winners receive an award of $5,000 and an engraved crystal bowl. The Commodore Award was given to two staff members:
Valeria Y. Cobb

Valeria Y. Cobb, assistant teacher at the Susan Gray School
Valeria Y. Cobb has been a passionate and dedicated assistant teacher at the Susan Gray School for more than 13 years. Consistently going above and beyond her assigned duties, she volunteers for weekend events, represents the school on a statewide committee for children with special needs, provides exceptional enrichment activities for autistic students, and delivers multilingual services for Spanish-speaking families. Cobb is a model colleague and highly respected mentor for new staff, and she regularly contributes ideas to improve the strategic operation of the school.

Randy Tarkington

Randall P. Tarkington, senior director of Residential Experience in the Office of Housing and Residential Experience
Throughout nearly two decades total of service at Vanderbilt, Randall P. "Randy" Tarkington has been providing exceptional service and leadership to the Residential Experience team, where he drives Vanderbilt's mission to deliver an empowering residential education. Tarkington mentors a large network of staff and supports their professional development and career goals. Beloved by students, parents and families, his talents were in high demand this year as he provided critical leadership to serve students in person throughout the pandemic.
The next staff assembly will be in the fall and will include the presentation of six additional new honors, including awards for Community Impact, Professional Excellence, Innovation Excellence, Research Excellence, Student Impact and Leadership Excellence.