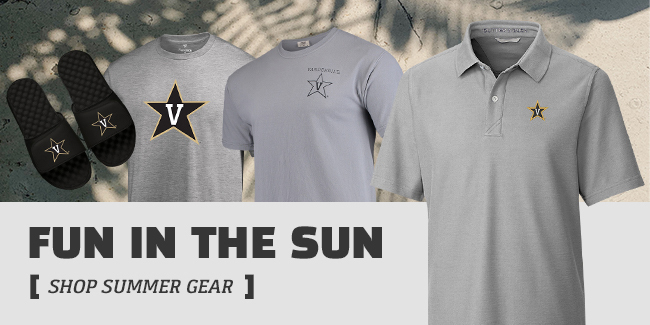 Vanderbilt University and Fanatics, a global leader for licensed sports merchandise, have agreed to a new long-term partnership in which Fanatics will operate e-commerce and mobile retail efforts for the Vanderbilt Athletics program.
Shop.VUCommodores.com, Vanderbilt Athletics' new online destination, aims to provide a best-in-class online and mobile shopping experience featuring rapid navigation, larger high-resolution product displays, frictionless checkout and the quickest access to new product offerings across all sports.

To celebrate the new collaboration, Vanderbilt faculty and staff can get 30 percent off all Commodores merchandise on the website through June 11 by using the code "VU30OFF." Sale items are excluded from the discount.
After June 11, Vanderbilt employees can get 25 percent off all Commodores merchandise by using the code "VUEMP25." Sale items are excluded.
"We are extremely excited to partner with Fanatics to operate our official online store as part of Vanderbilt's broader commitment to providing a better fan experience for our dedicated supporters, students and alumni," said Tommy McClelland, deputy athletic director for external affairs and revenue generation. "This partnership will help deepen engagement with Commodores fans and ensure they have everything they need to show their support for our teams."
Through Fanatics, Vanderbilt fans, students and alumni will have access to the widest assortment of Commodores merchandise available. The expanded product offerings feature high-quality apparel, headwear and other items, including official Nike sideline gear, replica jerseys, T-shirts, hats, non-apparel items and much more. Additional perks for shoppers include flat-rate shipping as well as monthly deals and discounts.
Other services to be provided by Fanatics include merchandising, fulfillment, marketing and customer service support.
VU bookstore transitions to Follett
In addition, Vanderbilt University has entered into an agreement with Follett Higher Education to assume operation of the university's bookstore at 25th and West End avenues effective June 1. Learn more about the Follett transition, and stay tuned for details about a grand opening celebration later this summer.
About Fanatics
As a global leader in licensed sports merchandise, Fanatics is changing the way fans purchase their favorite team apparel, jerseys, headwear and hardgoods through an innovative, tech-infused approach to making and selling fan gear in today's on-demand, mobile-first culture. Combining cutting-edge technology with an agile production and supply chain, Fanatics pioneered a vertical commerce business model that allows the company to better serve its 300-plus partners and the growing real-time expectations of leagues, teams, fans and retailers worldwide to ensure the broadest assortment of merchandise is available online, in stadiums or on site at major sporting events. Fanatics comprises the broadest assortment of merchandise by offering hundreds of thousands of officially licensed items across its Fanatics, FansEdge, Kitbag, Majestic, Top of the World and WinCraft brands, as well as the largest selection of sports collectibles and memorabilia through Fanatics Authentic. For more information, please visit www.fanaticsinc.com.