Vanderbilt's University Staff Advisory Council recognized its members for their service and celebrated the resiliency and commitment of university staff over the past academic year during the council's year-end meeting on June 8.
USAC serves as an advisory group to Vanderbilt's administration on issues that are important to staff, such as policies, benefits and practices. More than 100 elected individuals across 20 campus groups comprise USAC and represent all areas of staff in non-union roles at the university.
Committee Members of the Year

Faith Bishop, assistant director, Office of Postdoctoral Affairs and Graduate and Professional Student Housing; and Stacey Crowhurst, director of finance for the Facilities Department, were recognized as Committee Members of the Year for their service on the council's Membership Committee.
Committee of the Year
The Events Committee was recognized as Committee of the Year for its efforts to foster community during an unusual year of remote work and global and societal challenges.
Early in the year, the committee identified a desire among staff to connect virtually—outside of meetings—for casual conversation and networking opportunities. The committee developed virtual bimonthly Coffee Breaks, which are open to all staff.
The committee also was tasked with rethinking a longstanding USAC tradition—its annual food drive in support of Second Harvest Food Bank of Middle Tennessee. The food drive was made completely virtual and raised more than $5,300, providing some 21,000 meals for local families in need.

The Events Committee is co-chaired by Jennifer Bennett, senior financial analyst in Basic Sciences Research Administration, and Amanda King, manager of graduate student records in the Graduate School, Office of the University Registrar.
Karen Dolan Spirit Award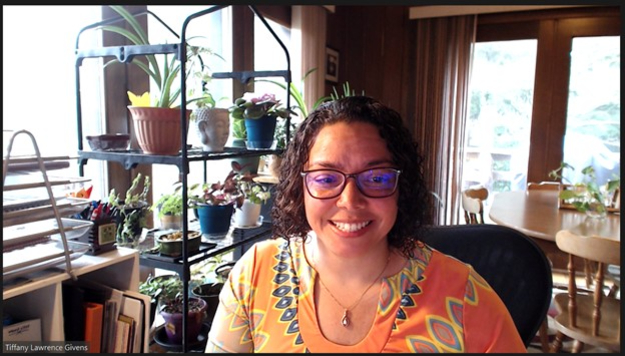 Tiffany Lawrence Givens, a human capital management specialist in Basic Sciences Research Administration, was honored with the 2021 Karen Dolan Spirit Award. The award recognizes a staff representative for stewardship, devotion and service to the council and is given to an employee who embodies the spirit of the late Karen Dolan.
Dolan worked at Vanderbilt for nearly 26 years and was the Graduate School registrar before being diagnosed with ALS (amyotrophic lateral sclerosis). She died in May 2006, and the award was created in 2008 to commemorate her strong passion for helping the Vanderbilt community.
"I'm incredibly proud of the work of USAC this year through our council members and committees," said outgoing USAC President Caroline Johnston. "Without their dedication, much of what we achieved this year wouldn't be possible."
In addition to the awards, USAC's officers for 2020-21 were recognized for their leadership and service. They are: Caroline Johnston, president; Tiffany Lawrence Givens, vice president; Jeannette Wolff, secretary; and Michael Pring, treasurer.
The staff council's new year will begin in July. For more information about USAC's work and membership, visit the USAC website, or follow on Facebook, Instagram and Twitter @VanderbiltUSAC.